Unfortunately, in most international airports usually there is a poor restaurant offer.
In the modern and spectacular T3 at Malaga Airport travelers can enjoy a quality offer rather than prefabricated snacks and drinks in plastic cups, as this airport is one of the few that have a high quality culinary offer.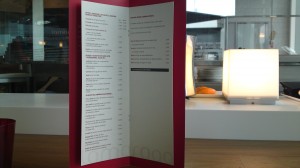 La Moraga Airport is a large and aesthetic restaurant, designed by the National Prize of Gastronomy and Michelin star Dani Garcia. In this luminous "Gastrobar" travelers can enjoy cold creams, tapas, snacks and other more substantial dishes and as well a good selection of desserts. The dishes are well prepared and even better presented, giving a touch of sophistication and good taste.
The wine list is short but well-made; prices are reasonably moderate and a staff more motivated than usual, are other attractions for lunch or dinner at Malaga airport.
Not only travelers can enjoy this offer, since La Moraga is located in the public area of the airport. In fact, Moraga is the favorite restaurant of many people working in the area to go and eat some tapas at noon, because besides being a very bright restaurant with a modern design and cuisine, it has that very distinctive flair of international airports.