If you are thinking of visiting Malaga in April, we anticipate that the weather is good for many activities. April is a very popular month, especially because of the special celebration of Easter in Andalucia, with Malaga being one of the main exponents.
But before we pack our bags, let's find out a little more about what it's like to visit Malaga in April.
Malaga in April
April in Malaga is the perfect month to enjoy the good weather; the temperature and the climate are perfect for any activity, whether it is going to the beach or visiting the typical white villages of the province. Do you like hiking along beautiful nature trails, or prefer spending most of your time under the sun?
Climate
The first thing anyone planning to visit the south of Spain in April will ask themselves is about the weather; the weather is mild all year round, but April is already the prelude to summer, which is getting closer and closer.
If during March in Malaga, you could already appreciate the great luminosity from the seats of the plane before landing at Malaga airport. In April you will notice that as well as the daylight hours extending during the day, the temperature has also increased.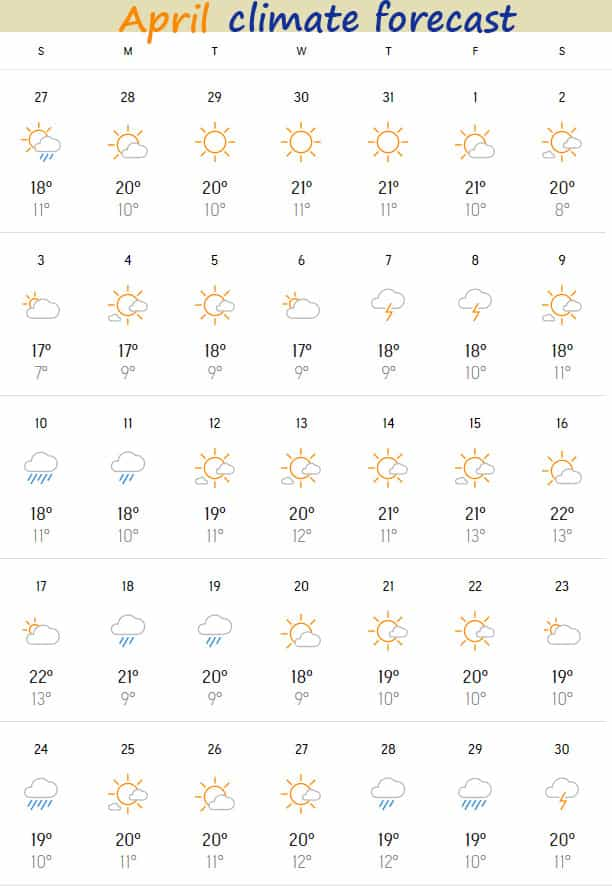 Temperature
The temperature as you can see in the picture above is around 66,2ºF (19ºC) during the day; althjough at night it still drops considerably to 51,8ºF (11ºC) on average. Are you wondering if you can go to the beach in April? The answer is that with 66,2ºF or even the 68ºF that you will find on some days, it is more than enough to sunbathe and go back home with a nice tan.
If you want to sunbathe every day and experience the nightlife, the ideal time to visit Malaga might be by the end of July or in August; April would be perfect for activities that are difficult to do during the hottest months of the year. It is a month with a mild average temperature and ideal for any activity,  that might be the reason many tourists choose it every year.
You can find more information about the weather and weather forecasts at: Accuweather.
Does it rain in Malaga in April?
Rain should not be a concern if you are planning to visit Malaga in April; it is possible to have 1 to 4 days of rain in a row during the month, and it is usually a light rain that will not prevent you from doing any kind of activity.
Going to the beach in April
But can I go to the beach? This is the question that many people ask themselves, as April is the only time when they can plan their annual holiday, and they have to make the most of it. Of course you can go to the beach and enjoy the rising temperature; a temperature that is not as high as in the summer months, but which makes us feel its closeness.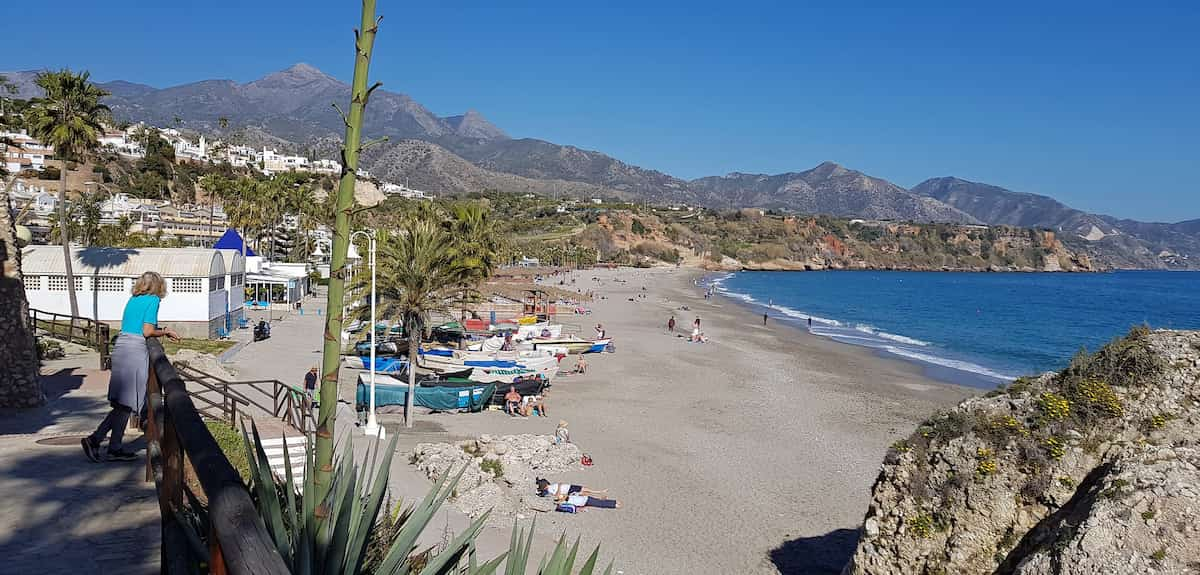 The maximum water temperature in April in Malaga is around 66°F (18ºC). This is a refreshing temperature, ideal for taking a dip and getting back to the towel or playing games on the shore such as paddle boarding. The minimum water temperature reaches 59ºF (15ºC) and the average temperature is usually around 62.6ºF (17ºC).
A temperature between 59ºF and 68ºF allows us to stay in the water for at least 12 hours without suffering from hypothermia, so bathing in Malaga in April is completely safe.
Recommended clothing for visiting Malaga in April
Let's pack your suitcase before taking a plane to Malaga; in case you're wondering we have a luggage guide where we analyse the weights and requirements of each airline regarding checked and hand luggage.
Clothing is a personal thing; it is not the same for someone visiting Malaga from the north of Russia as it is for someone visiting from the UK. We will try to offer some guidance but in the end it will depend purely on your wind chill.
Sunglasses.
Swimwear if you plan to go to the beach.
T-shirts or short-sleeved shirts.
Shorts.
Something warm for the evening.
Sun cream.
As we said in other months: If you plan to go to the beach, it is best to buy your towel and umbrella here, to save space in your luggage.
Activities in Malaga in April
April is a month with many activities among which we highlight the popular Semana Santa (Holy Week); many of the tourists who choose to visit our city in April do so to see the parades and experience first hand Easter in Malaga.
We will be updating this section with new activities and popular events in April in Malaga.
Easter in Malaga
Easter in Malaga in 2022 is from 10th April until 17 April. This event marks the end of the low season; it use to be celebrated between the end of march and the middle of April.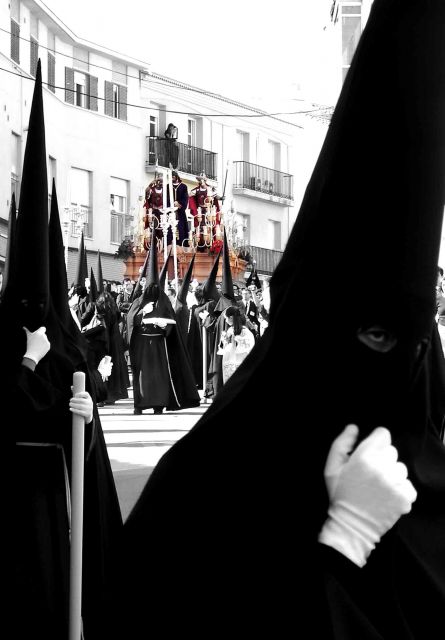 Holy Week in Malaga is characterised by processions from Palm Sunday to Good Friday. Holy Saturday is a day of rest before Palm Sunday, when the procession of the Risen Christ takes place, with a representation of all the guilds. Those guilds are in charge of organising each of the processions and they have a great history of traditions behind them.
Cristo de Vera Cruz + y Sangre is the oldest piece in the procession and dates back to 1505.
The weight of each "throne", as the figures in the procession are commonly called, can weigh up to 5000 kilograms.
Natura Malaga
The Healthy and Sustainable Living Fair will be held on the 1st, 2nd and 3rd of April in FYCMA, Palacio de Ferias y Congresos de Málaga.
This annual fair aims to promote healthy eating and a healthy lifestyle, which not only benefits our health but also our environment.
Organic production, tourism, mobility, food and many themed activities for everyone, from workshops to culinary events.
Buying tickets online: https://mmalaga.es/agenda/natura-malaga/
People's Fair in Fuengirola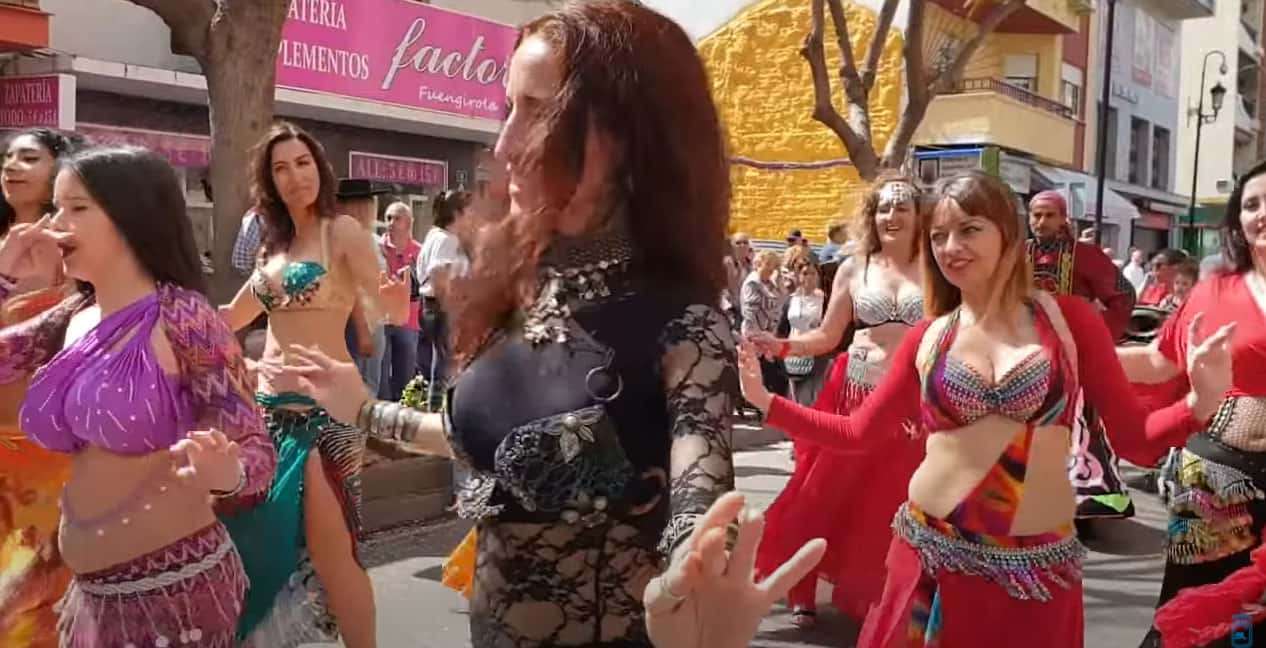 The international people' s fair has become one of the city's main tourist attractions and takes place in late April and early May. In 2022 the date is from 27 April to 2nd of May; with a great parade on 30th of April at 11:30 am.
Come and discover the gastronomy and folklore of the different countries that participate in the festival.
There is usually representation from more than 30 different countries, each with its own programme of activities and colourful parades. There are also live concerts, street markets, food stalls and lots of fun.
It takes place in a traditional Andalusian fairground, with more than 550 parking spaces and very near to the train station in Fuengirola.
Location: https://goo.gl/maps/d2jsX3UN7Z9ZxDR1A
Final thoughs on visiting Malaga in April
As you can read there are many activities you can do during April in Malaga; although you can move comfortably using public transport between the nearest towns and the airport, when using it during important events such as Easter or for getting to a more distant town, problems would arise. We can offer you a car hire at Malaga airport at the best price; with all the guarantee of our company that has been in the sector for more than 20 years. We want you to come back to our service every time you return, that's why you can trust us; because we are sure that you will like visiting the province so much in April, that you will want to know what Malaga is like during other months of the year.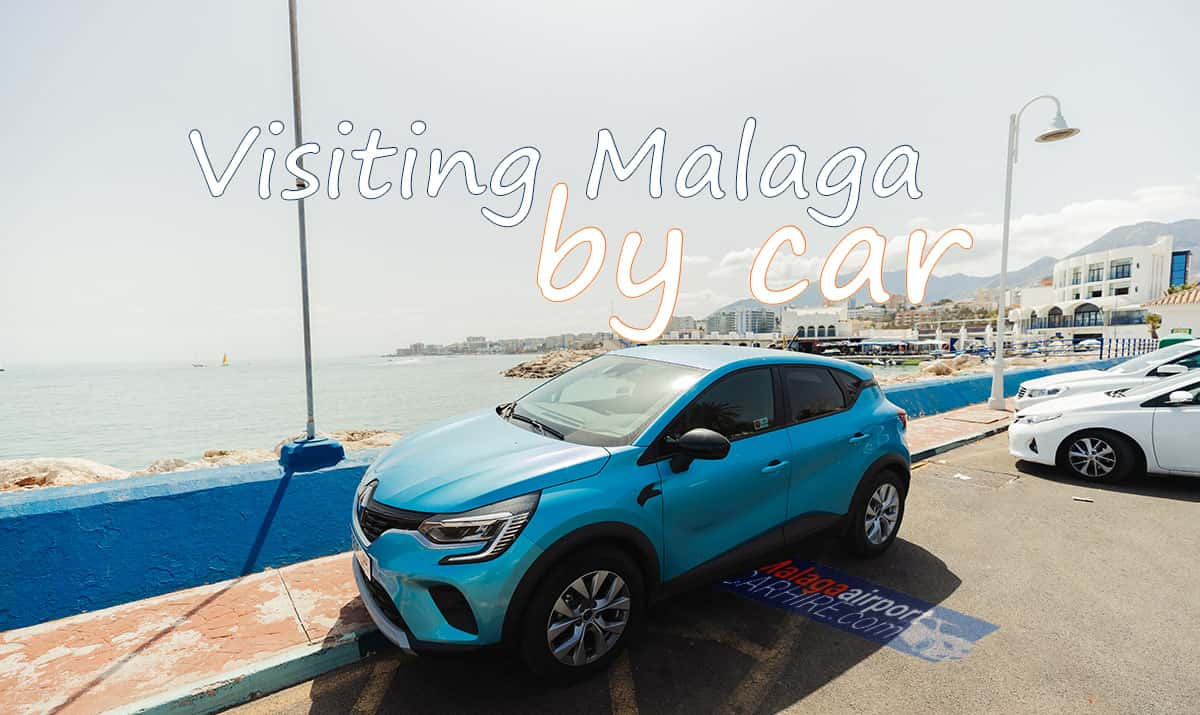 By having our own vehicle, there are many places you can visit witout depending on transport, that is fine for shorter distances but might not be ideal for day trips and visiting different towns.