El Chorro about 60 km north from Malaga is one of the most popular areas for climbing in Europe. It is very popular among nature lovers and hikers.
Thanks to its prime location in southern Spain climbing and hikinh is possible all year round. You'll also find one of the most interesting hiking trails of Andalusia, where flows in a spectacular gorge the river Guadalhorce.
The area is especially popular on the weekends with nature lovers and the many restaurants serving Spanish dishes and recipes make this enchanting area of El Chorro  popular as a place for a tasty lunch.
Visiting El Chorro in summer
If you visit El Chorro or Ardales during the summer, we recommend you take a dip in the recreational area (Map); a well-kept area where you can practice non-motorised water activities. It is especially suitable for families, as everyone will have a great time.
There is a barbecue area, although you can also find a restaurant nearby.
The King's Path
The King's Path "Caminito del Rey", is a narrow walkway hundred metres above the canyon on a vertical wall. Even if you don´t feel like climbing or getting otherwise an adrenaline kick, the views are absolutely breathtaking. This technical masterpiece of El Chorro was built in 1901-1905 and inaugurated by Alfonso XIII, thus the name The King´s Walkway.
If you want to visit the King's Path you must make a reservation online, check the location on Google map or visit the website here: https://www.caminitodelrey.info/en. Remember that this is a very popular attraction in El Chorro, so better book well in advance without hesitation if you find a free spot.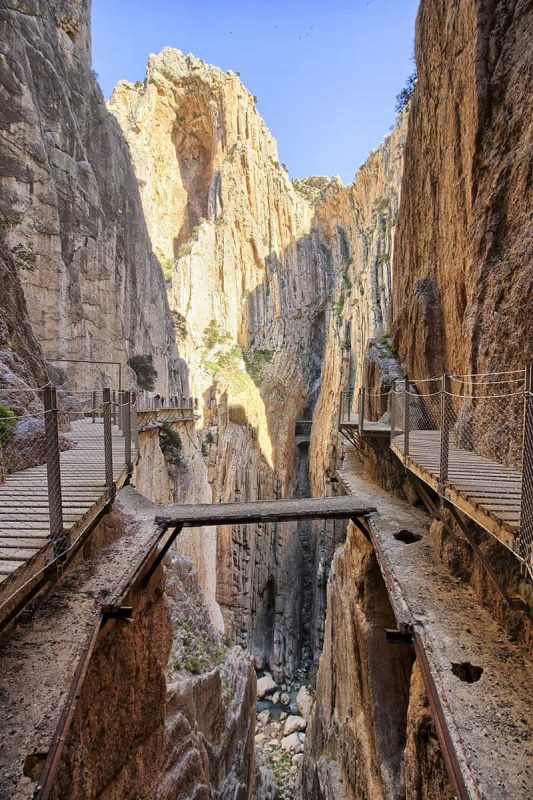 Hiking
Not everything is about the Caminito del Rey, there is much more to do in the area. It is a paradise for hikers, who usually park their cars near the restaurant El Quiosko. If you don't find a free parking space in front of the restaurant, go ahead and cross the dam; on the left after crossing the dam there is a large area where you should be able to park your car for free.
If you go in the morning, you can do some walking and then have lunch in the restaurant. We recommend the tapas, which are quite cheap and tasty. One of the most popular routes starts after going through a long tunnel just before the parking area (map). You can get there on foot; after going through the tunnel, you can decide whether to take the route on the right or the one on the left. Both of the routes will gift us with breathtaking views; the right one of the Reservoir from the heights, while the left one from the King's Path.
It's worth wandering around the map to find places of interest to visit in El Chorro.
Tips
The routes are easy and low in elevation; easy enough for children as young as 4 years old; they will have a great time hiking on the area and picking-up rocks. Remember that children need to be supervised, as there are many areas with significant drop-offs, so it is best to keep them close by.
In the restaurant El Quiosko, if you sit at the outside tables, you can order generous tapas (small rations). Prices start from as little as €1.
This is a popular area with bikers, so be careful when driving to and from El Chorro; although the road is not a fast road, there are a few curves with poor visibility.
Accommodation
If you are going there from the airport, then we guess that you might need accommodation in El Chorro. One popular place is La Posada del Conde, very near to the hiking trails, the King's Path and many other attractions.
la Garganta is also another popular place to stay or even to eat, as it is also a restaurant. You can find it near the shuttle to the King's Path here: https://g.page/lagargantahotel?share
There are also apartments and other options, in case you want to explore the area for choosing another kind of accommodation.
How to get to El Chorro
From Malaga Airport, El Chorro can be reached on the new highway A-357 along Cartama and Carratraca. You must head from Malaga to Ardales and the beautiful Guadalhorce reservoirs (68 km).
Another very nice route (53 km) is through the Guadalhorce valley; the road A-343 goes along innumerable orange and lemon tree orchards from Pizarra to Alora and its medieval castle, which towers majestically over the valley.
From Alora the road to El Chorro is well signposted. Even those who are not so keen on hiking will enjoy very much the scenic route on this second route, especially during spring.
We hope you enjoy this driving tour from Malaga, and remember that if you want to make this and many other tours, Malaga car hire is our recommended choice, do not forget to reserve online ahead of time for the best prices!