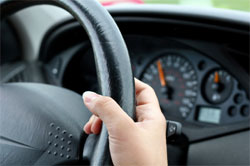 Driving on unfamiliar roads (especially on the 'wrong' side) can be a nerve-wracking experience for the best of drivers, but even more so if you've just got off a flight and aren't feeling at your freshest. Landing at a foreign airport and facing a long drive to your resort is enough to put some people off hiring a car for their holidays, but with a bit of planning and a pinch of driving confidence even nervous of drivers can get the most out of their Malaga car hire. Here's our guide to help you drive confidently in your holiday hire car.
Know the road rules
Before you get anywhere near the car hire office, familiarise yourself with the basic road rules for driving in Spain. Some are a bit different to back in the UK, so reading up on the Spanish highway code will help a lot.
Familiarise yourself with the vehicle
Be sure you know where all the controls are before you leave the office. You're more likely to lose your nerve and panic if you find yourself fumbling around looking for lights etc. when you need them right there and then. You're also a danger to other road users if you keep turning on your wash wipes every time to intend to turn a corner….
Minimise obstructions and distractions
Make sure you've got the car set up the way you want, with clear views in all your mirrors, ensuring any luggage doesn't block the rear windscreen. If you're travelling with excited children who you know may distract you, remind them you have to concentrate or let another adult sit in the back with them if possible to keep everything cool and calm.
Plan your route
Having a good idea where you're headed to and the best way to get there will go some way to boosting your confidence when on the road. To help you, our handy route planner allows you to enter your point of origin and intended destination, giving you clear, precise directions for your journey, and a map to familiarise yourself with the route.
Hire a GPS
If you're not comfortable memorising directions, or if you've no one with you to help navigate, perhaps a GPS would be a better option to keep you cool and collected on your journey. You can order a GPS when booking your car, and for 5€ a day, it can provide real of peace of mind. Please remember to programme your journey details before you travel, as according to Spanish Law, handling the GPS when mobile is prohibited.
Do you have any other helpful tips you'd like to share to boost confidence when driving in Spain? Please feel free to comment below.