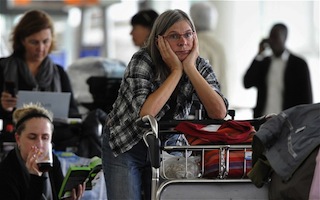 Queuing is said to be a very British past-time, and if you're one of the millions of visitors who fly into Spain every year, than standing in line is something you'll be more than familiar with. Here's one way to beat one of the longest queues at Malaga Airport.
From check in, through security and passport control, boarding and disembarking, passport control on arrival and baggage reclaim. Travellers can spend an average of three hours in an airport either side of their flight. When you factor in the time spent cramped on the plane, it's little wonder that young children become fractious; patience wears thin and tempers flare.
Avoid some Malaga airport queues
One of the busiest areas in Malaga airport is the car rental desk area in the main terminal building. While there are over a hundred car hire companies in the Malaga area, only a small number of rental firms have desks at the airport. When getting off a flight, tired and eager to start your holiday, it may seem quicker and more convenient to book and collect your car from one of these one-site rental offices; in reality your final queue at Malaga airport can often be the longest. A number of tour operators and online brokers use many of the same rental firms based in the terminal building; in the busy summer months, this can produce a bottleneck of people waiting to collect their cars.

Save time on car rental
Malagaairportcarhire.com can help you start your holiday quicker. Book with us online, in advance, and you won't be joining the masses down in the bowels of the airport. You'll be on the road ready to start your holiday! You'll be greeted at the door by one of our friendly representatives, and directed to meet our courtesy bus. From there, you'll be driven out of the airport to our nearby office to complete you booking paperwork, make your rental payment and collect your pre-booked vehicle. No wandering around the multi-storey car park searching for your vehicle, and no running the gauntlet of the airport exit road whilst you're still recovering from your flight.
Our efficient and professional staff will have you on your way in no time at all. Booking in advance means we've already got your vehicle ready and waiting for you at our office; and what's more, we won't charge you if your travel plans change and you need to cancel or amend your booking. Book your car today and you'll be on the road sooner than you think!