When is Easter in Malaga? Every year the "Semana Santa in Malaga" might be on a different date, but it use to be by the late of March or early April. In 2022 Holy Week is from 10th to 17th April; we will propose different activities so you can get the most from your visit.
Easter Week in Malaga
Holy Week is celebrated in Malaga in a very different way to other parts of our country; it is in fact one of the most recommended places for those who want to get to know this tradition.  Every day thrones are carried in procession with religious figures that are usually quite old; thrones weighing several tons are carried on the backs of the members of a brotherhood, in charge of guarding and taking care not only of the artistic representations but also of preserving the tradition.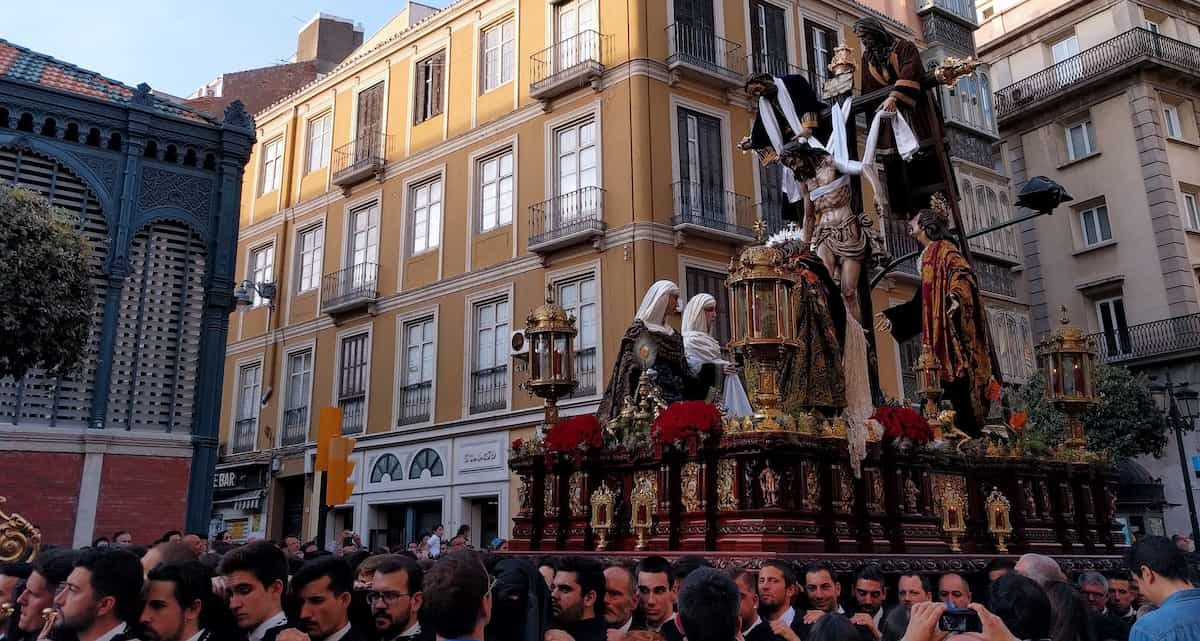 Holy Week consists of the following days with processions:
Domingo de Ramos (Palm Sunday)
Lunes Santo (Easter Monday)
Martes Santo (Holy Tuesday)
Miércoles Santo (Holy Wednesday)
Jueves Santo (Maundy Thursday)
Viernes Santo (Good Friday)
Domingo de Resurrección (Easter Sunday)
Each day of the week has its own particularities, being the last day when the procession of the resurrected takes place.
Renting of seats and stages
When it comes to watching Holy Week in Malaga, there are both free and paid options. Those who want to have space and a comfortable place to watch the processions can rent a seat or a stage along the official route.
Tribuna Central
Calle Granada
Alameda Principal
Rotonda de Larios
Calle Larios
Plaza de la Constitución
The popular Tribuna de los Pobres, is a place along the route where all the processions pass and where traditionally there is a place to sit and watch the processions without paying; although it is usually crowded.
For information about paying for a seat you can contact at usuarios@agrupaciondecofradias.com.
Prices for seats and boxes at Easter
The guide price for the whole season is about 60€ per chair and about 500€ per box, which includes 6 chairs. The money obtained is the main method of financing the different brotherhoods that participate in Holy Week in Malaga.
You can request or consult the latest prices on the following official website:  https://agrupaciondecofradias.com/abonos/
It is also possible to rent balconies or houses from which to watch the processions, but in these cases the price is higher and you will have to contact a private individual.
Curiosities about Easter Week in Malaga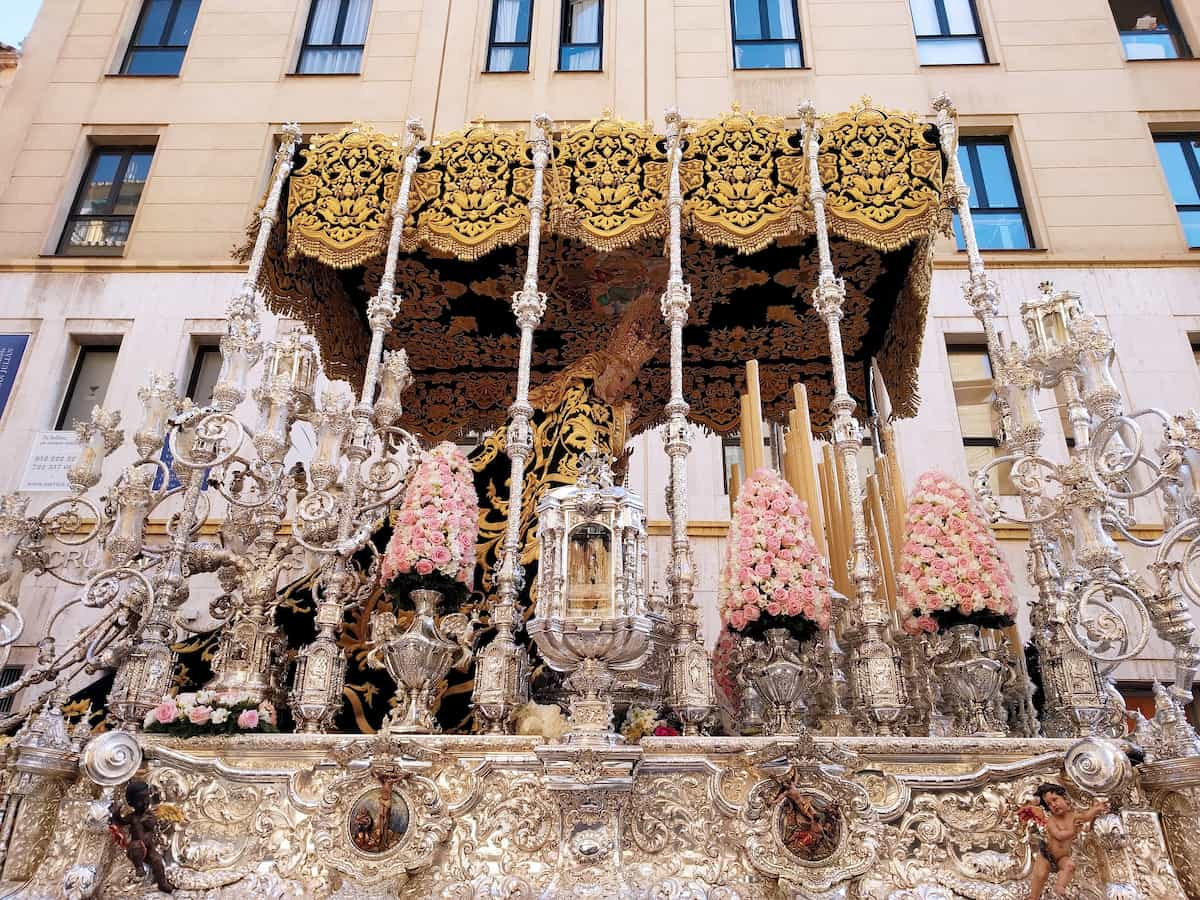 There are many curious details that you may not know about this celebration.
Each of the thrones that go out in procession is accompanied by penitents (Nazarenes, who may carry candles or objects, such as rule books, lanterns…) and pilgrims (people who have promised to do penance in exchange for a favour and who accompany the throne behind the band).
Due to the heavy weight of some thrones, which can exceed five tons, some require more than 250 men under them; they all have to move in sync.
Every year since he was 7 years old, Antonio Banderas has fulfilled his promise to Malaga's Holy Week by coming to the city to enjoy it and to participate actively in it.  The brotherhood and the throne where you will be able to see him is the "Lágrimas y Favores Brotherhood" .
Transport during Easter
The centre of Malaga is closed to traffic and one way people usually get to see the thrones is by train. The train adapts a new special timetable during these days, although it is usually quite crowded.
As an alternative to public transport you can go by car and park far from the centre or you can ask for a private transfer to Malaga.
What is Semana Santa?
In the following video you can get an idea of what Semana Santa in Malaga is like.
Check how they have to make the turns to follow the street directions; very hard under those extreme weights as they must all do it to a rhythm set by the marching band.
Activities in Easter
If you visit Malaga in April you will generally find good weather and an ideal temperature for touring the whole province by car. We recommend you to rent a car at Malaga airport, not because that is what we do, but because it is the only option to get to know the interior and enjoy the gastronomy of the white villages and their beautiful natural surroundings.
If you decide to hire a car to get to know Malaga in depth, remember that we have been in the sector for more than 20 years and that we not only offer good prices but also cars in perfect condition and with no hidden costs..
We are going to give you a few ideas; later on we will write an article about April in Malaga where we will talk in more depth about the most recommended activities.
Visiting the white villages
Visiting the white villages is in itself a highly recommended activity, but to round off the day we recommend you to eat in them and try some of their typical dishes. Famous is the well-known Plato de los Montes, very simple but at the same time exquisite. Before eating you can take a walk, usually around these villages there are trails that show us the natural beauty of the environment where they are located.
Go to the beach
Although it is not summer, the sun is already shining so you can go to the beach and relax in the sun. You can round off the day eating fried fish at one of the beach bars along the promenade.