Malaga airport transfers
Malagaairportcarhire.com recommends the outstanding Malaga airport transfers services provided by www.malagaairport-transfers.com. Book in advance your transfer in order to avoid disgusting surprises. Your private driver will be waiting for you at the arrivals terminal to help you with your luggage, in addition you will avoid those long taxi queues, specially on peak times.
Transfers services are performed by professional drivers using prestige cars at lower rates than public taxis.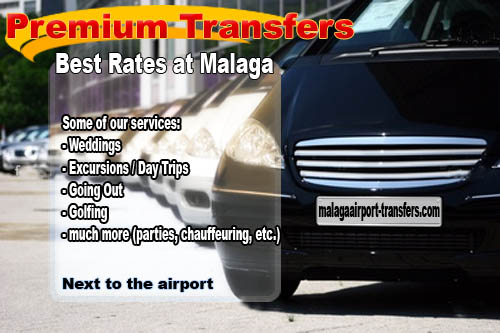 Standard:
Mercedes E Class
Audi A6
Jaguar X-type
Minivan:
Mercedes Viano
Volkswagen Transport
Microbus:
Mercedes Sprinter
Your driver is aware of any delay, so he will be there upon your arrival.
Find below approximate rates for transfers to popular destinations in Costa del Sol:
Malaga airport to Marbella: 67.00 €
Malaga airport to Nerja: 76.50 €
Malaga airport to Calahonda: 53.00 €
Malaga airport to Estepona: 94.00 €
Malaga airport to Puerto Banus: 73.00 €
Malaga airport to Antequera: 79.50 €
Prices above are just an estimate. Find many more destinations and the best deals at Malagaairport-transfers.com.