From 2023 the most polluting traffic will be restricted to the centre of towns with more than 50,000 inhabitants. How will it affect you if you come on holiday? We are going to tell you all the details so that you are prepared and know what you need to drive without problems on our roads and in the low emission zones in Malaga.
These measures will be implemented throughout the year in the different cities, and each city council will decide on the level of restrictions.
What are the Low Emission Zones?
Low Emission Zones ("ZBEs") are defined areas in the centre of towns and cities with more than 50,000 inhabitants, where a sticker is required to drive. This sticker will show the category of the car you are driving according to its emissions level and will allow access to certain zones according to the restrictions imposed by each local council.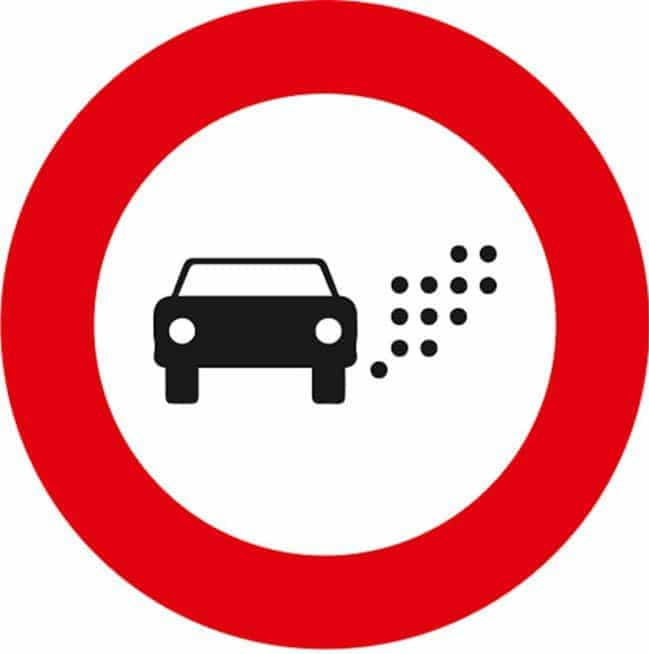 Low Emission Zones in Andalusia
Málaga: Benalmádena, Estepona, Mijas, Fuengirola, Malaga city centre, Marbella, Torremolinos and Vélez-Málaga.
Almería: Centre of Almeria, Roquetas de Mar, El Ejido.
Cádiz: Cádiz capital, Jerez de la Frontera, Algeciras, San Fernando, El Puerto de Santa María, Chiclana de la Frontera, Sanlúcar de Barrameda, La Línea de la Concepción.
Córdoba: Córdoba capital.
Granada: Granada capital, Motril.
Huelva: In the capital.
Jaén: Jaén Centre, Linares.
Sevilla: The capital, Dos Hermanas, Alcalá de Guadaíra, Utrera.
Each locality will have its own restrictions, so it is advisable to find out about the city you want to visit beforehand.
In Malaga city there will be two zones, a less restrictive outdoor zone and an indoor zone in El Soho and the historic centre that will only allow access to the least polluting vehicles.
What are environmental stickers?
Stickers are not compulsory, although if you are entering a ZBE zone they should be visible on the lower right-hand side of the windscreen.  There are several types and they classify the vehicle according to its emissions level:
Zero emissions: Cars with a range greater than or equal to 40 kilometres in electric mode.
Eco: Hybrid cars with a range of less than 40 kilometres.
C: Green sticker that applies to diesel vehicles after 2015 or petrol vehicles after 2006.
B: Yellow sticker that applies to petrol vehicles between 2001 and 2006 or diesel vehicles between 2006 and 2015.
No sticker: Cars that do not fall into the above categories and are not entitled to a sticker.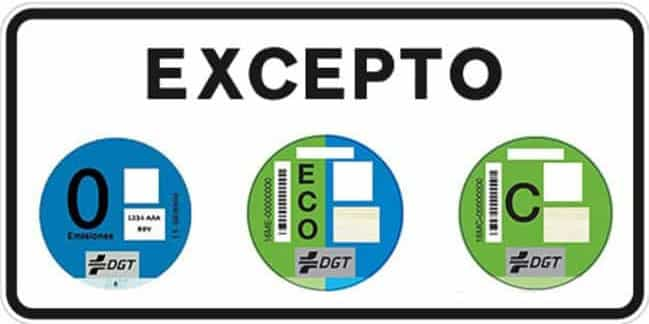 How to obtain them
If you need an environmental sticker and you have a car registered in Spain, you can buy it at Correos or authorised workshops and the cost is 5 euros.
These environmental stickers are only valid for driving in Spain, although other European countries may use an equivalent sticker that could be valid.  We recommend visiting the DGT website to see the equivalence.: https://sede.dgt.gob.es/es/vehiculos/distintivo-ambiental/equivalencia-distintivo-ambiental-ue.shtml
In any case, if you do not have an equivalent sticker, you will have to register your car individually if you plan to drive in an environmental restriction zone. Among the latest changes is the sporadic access of up to 24 days for foreign vehicles that do not comply with the emission regulations.
Avoiding fines in Low Emission Zones
Nobody wants to be fined, so we are going to try to clarify any possible doubts when driving in a low emission zone. You should bear in mind that over time cameras will be installed that will read number plates and stickers, so you should be aware of what you can and cannot do.
In cities such as Malaga and its municipalities, we can expect that the restrictions will be low, although they are not yet known. It is possible that all vehicles with a sticker will be allowed to circulate, with the exception of those without a sticker.
In any case, we should always be informed about the restrictions. Images like the one below will be set up before entering a low emission zone. The fine for non-compliance will be €200, halved if paid within 20 days of receipt of the notice.
If no sticker is available
If your car does not have a sticker, you may not be allowed to drive in low emission zones. Some cities allow it if you park in a public car park or if you live in the area. In the end it will depend on the local council, so it is best to be informed.
If you have a B or C sticker
In these cases, in principle, you can park in public car parks unless there are restrictions. The price of paid parking is according to the category of the vehicle, the less polluting it is, the lower the price.
Eco Sticker
With an Eco sticker on the windscreen of your car, you can park on the street in regulated car parks, but you will have to pay.
If you have a Zero Emission Sticker
In this case, you will not be affected by the restrictions in any city in Spain. In addition, regulated parking will be free and you will have exclusive parking areas.
Map of low emission zones in Malaga
In the following map you can find the low emission zones and public car parks where you can park your vehicle both inside and outside the zone. Remember that in addition to the capital, there are low emission zones in other municipalities in our province.
What if you plan to rent a car?
If you are planning to hire a car at Malaga airport during your holiday with us, then you have nothing to worry about. All our vehicles have an environmental label, so you can drive around without any problems. You just need to know which one you will need.
Depending on your plans, you may be interested in electric car hire in Malaga or maybe hire a hybrid car. For example, if you plan to visit Madrid or Barcelona, which are more restrictive cities, driving an electric car with a Zero Emissions label will not be a major problem.
Hire an electric car with Zero Emission Sticker
In addition to using less fuel, you will be able to save on public parking fees. In Malaga, you can drive an electric car in the restricted area of the historic centre, and you can also park for free and without time limit in the time-regulated area. The municipal car parks offer electric cars up to 45 minutes of free parking, and there are also exclusive reserved parking spaces.
Other cities offer their own advantages, such as Seville, where you can use lanes reserved for public transport, although you must be a resident of the city to park for free.
Remember that to benefit from these advantages the sticker must be visible, in our cars they are already installed, so you don't have to worry about anything else. As well as being able to park for free in regulated zones, you will be exempt from any anti-pollution measures.
If you want to rent a zero emission car to enter a capital city with restrictions, we recommend that you let us know in the note which model you require, and we will do our best to accommodate your needs.
If you want to find out about hotels where there is an electric charging point, we recommend you visit this article.
Updates
The latest news are related to the High Court of Justice of Asturias, where the ordinance has been suspended. It is therefore forbidden to suspend the circulation and parking in the city to any type of vehicle, even if it lacks environmental label.
The verdict states that "no specific data is provided on the state of the air or future prospects", so it seems more like a discriminatory regulation without any criteria.
What will happen next? Nobody knows.
April 11th, 2023
The Malaga City Council has established an area of 473 hectares that will be committed to the Low Emission Zone and 97 control points are in charge of monitoring vehicle access in the three delimited zones: General, Historic Center and Soho. The implementation of the Low Emission Zone (ZBE) in Malaga will be delayed until December 2023.