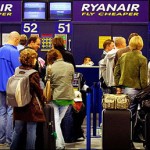 Ryanair and London are the two words that are most repeated at Malaga airport. The first one has consolidated as the leading company and the second is the favourite destination, both there and back, of the travellers that arrive at or depart from the Costa del Sol. An Irish firm and a British city are the owners of an airport that has always had an international vocation and that, after the opening of its new terminal in 2010, is gaining more and more passengers.
The firm presided by the eccentric Michael O'Leary creates all sorts of controversy amongst the passengers. They make you carry your handbag inside your hand luggage, you have to print out your boarding pass so you don't get charged when checking in, you don't have a designated seat which creates tension when entering the airplane as everyone tends to rush in to grab a seat, during the flight they try to sell anything to the passenger, including the catalogue that the company gets done every year with suggestive photographs of their lightly dressed stewardesses…It's like a street market only up in the air, but the tickets are cheap and that's exactly what the 2.7 million passengers, who used this airline last year, valued.
Its increase has been spectacular. Sources of the low cost company predicted in October a closure of 2011 with 2.4 million passengers in Malaga, 20% more than the previous year. In the end they came out short to the point in which they increased their volume of clients by 30% after gaining 600.000 travellers in only one year, according to Aena's official figures. They have over one million passengers more than the second main company at Malaga airport, Easyjet, and have already reached a market share of 21.5%, in other words, one out of every five passengers that pass through Malaga airport have flown in one of the Ryanair airplanes.
One of the keys to this company's success was to create a permanent operative base in Malaga from where to launch new routes in such a short period of time. This airline offers the possibility to fly directly to 47 destinations such as UK, Germany, Spain, Belgium, Denmark, Slovakia, Finland, France, Ireland, Italy, Norway, Netherlands, Poland and Sweden. Due to such a wide variety, the company has never had less than 100.000 clients a month during the whole of last year and in high season, mainly July and August, they surpassed the barrier of 300.000 travellers in only one month. Easyjet, the second company with most passengers in Malaga, fly to 12 cities and none of them in Spain.
The international aspect of Malaga airport is the main reason why, on the other hand, it's easier to fly abroad than to anywhere in Spain. The UK was the star destination at Malaga airport last year after gaining 4.4 million passengers, 35% of the total. one out of three travellers that were at this airport in 2011 were going to or coming from a British city. The Spanish cities, thanks to Ryanair's increase of connections -that fly to Santander, Santiago de Compostela, Valladolid or Valencia, amongst others-, are ranked in a more than decent second place with 2.6 million passengers in 2011; followed by destinations in Germany, France and Holland.
In this context, it's not surprising that Gatwick airport in London gains the most passengers from Malaga, with 1.1 million, followed by the airports in Madrid and Barcelona. Manchester has gone up one spot, from fifth place to fourth, and Dublin dropped two, from fourth to sixth. The fifth favourite destination of the travellers at Malaga airport is Paris. It's quite surprising that, being Ryanair the leading company in Malaga, they don't fly to Gatwick -but to Stansted in London- or to Madrid.
The change of model experienced in the airports over the past decade towards the low cost airlines is clearly reflected in the statistics. In 1999, for example, the leading company in Malaga airport was Iberia, with 1.2 million passengers, and Madrid was the main destination. Today, this Spanish airline is ranked in 14th place in Malaga with only 247.816 travellers. The phenomenon of another Spanish regular airline like Spanair has been pretty much the same. In 1999 they were the third most important company at Malaga airport with 472.096 travellers, and by the end of last year, they had to settle for tenth place with no more than 332.612 clients. This was their last statistic at this airport after announcing last Friday that Spanair had closed down and declared banruptcy.
The business world is like that. There are firms that fail and others that succeed. Malaga airport, despite this recent loss, boasts great health as it's one of the top priority airports for the airlines of half the world. Last year it was used by over 300 companies -including all types of commercial flights, private flights or air taxis amongst others- and is surprising to see, for example, that an insignia such as Air France, after so many years, drops down to 68th place. Delta Airlines, the company that directly connects Malaga with New York, finished in 30th place with 23.500 passengers although they did only operate from June to September, and is a demand of the whole local tourist sector that they maintain this route all year round.
"We are satisfied with how the way things are going, but we must not relax, be conformists or take anything for granted: we are a live infrastructure and, as such, it requires real-time daily attention", said the managing director of Malaga airport, Salvador Merino, in a press note, who also highlighted that "we continue working to favour the initiatives of the companies that believe in Malaga and keep on improving and adjusting the operative of the airport until we achieve the point where we make it almost impossible to turn us down". In any case, the Malaga airport managing director pointed out that "we must bare in mind that the decision is in the hands of the airlines and that we are going through an economic crisis, which is why the airlines fly to where the clients want to go, wherever there's a market".