You were used to traveling with your partner and now you have a new adventure, flying with a newborn baby, toddler or a child. We will explore all the facts that may be useful to you so that flying with a baby or child becomes a good experience for both.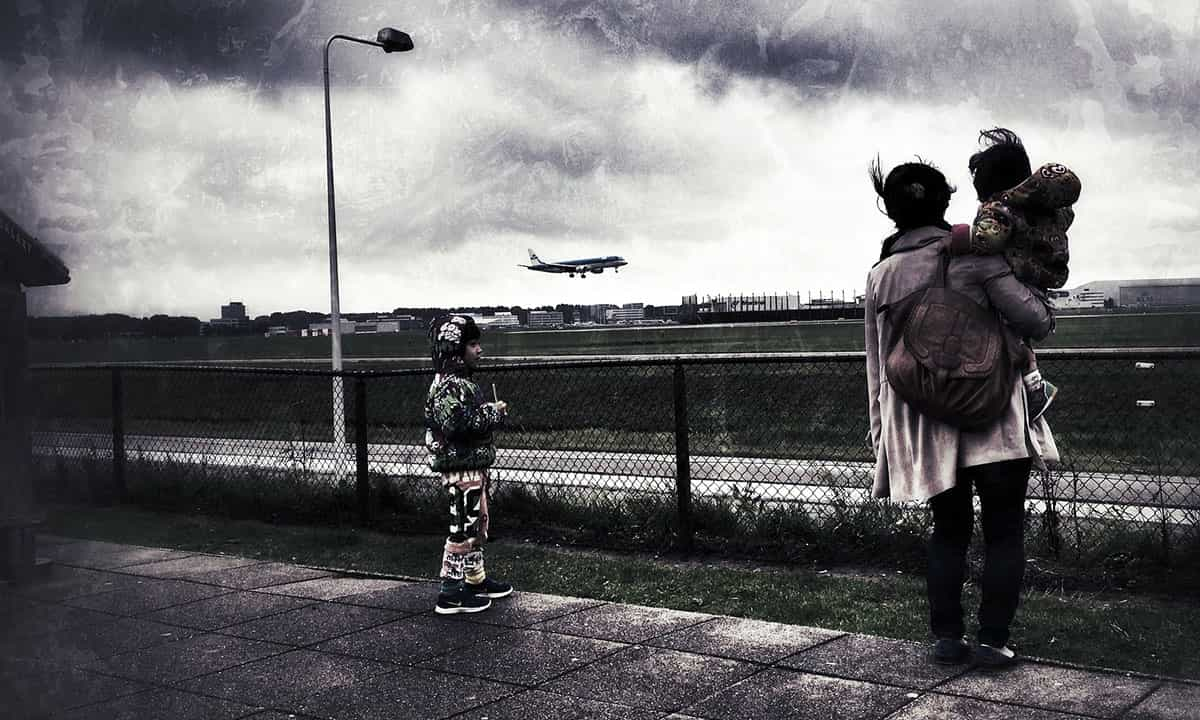 Booking a flight with newborn baby or children
The first thing is to know if there is any restriction. Well, as long as the baby is more than 1 week old there should be no problem if the documents and the booking are in order. There are some recommendations however about newborn babies and flights.
There are many questions for those who have never flown with children, let's try to answer them all below:
From what age can a newborn fly?
Although some airlines allow babies to fly from a few days of age (usually at least 5), it is advisable to wait until 2 weeks of age if the journey is short. In the case of long trips, it is advisable to wait until the baby is at least a month old.
Can air travel cause problems for the baby?
Like adults, a baby's ears may become blocked by pressure changes. In their case the duct is narrower so it is more likely to occur, causing pain or discomfort at best.
Using a pacifier or breastfeeding can relieve pressure and make them feel better.
How much does a baby's plane ticket cost?
If the child is younger than 2 years of age and flight on your lap, the airline ticket usually costs 10% of the original price. From 2 to 11 years of age they require a seat, the price may include a discount according to the fare at which they fly.
Please note that if your child will be 2 or 12 years old during the trip, you must purchase the corresponding ticket.
Some airlines will charge a full fare when fliying on business class.
While booking online you will find an option to include infant or children depending on their age. Just select the option properly.
What about baby baggage?
For airlines there are two categories: 'infant' (under 2 years old) or' child' (between 2 and 11 years old). They are entitled to the same baggage allowance as an adult and you can also bring a stroller.
What are the baggage restrictions from airlines? You can find the answer in our guide.
We recommend to bring food and diapers among other items baby may need in cabin-baggage. Some airlines offer baby food, but to know exactly what your possibilities are, we recommend to contact your airline company.
Can you flight with a baby on your lap?
If the baby is under 2 years old can flight on your lap without paying for a seat.
If you require a seat, you can order a special bed crib up to 11 kg for babies under 8 months old. The price will be a full fare in this case.
Don't forget that in the case of a single adult travelling with two infants, you will need an approved infant-seat at least, the other infant can flight on your lap.
Baby strollers and boarding gates
If you bring a baby stroller you have 2 options, check it in as normal baggage or take it to the boarding gate. In the second case and depending on the aircraft you may be able to take it into the cabin, airline personal will usually take it to the hold . After you arrive to your destination they might return the stroller at the aircraft door for your convenience. In the case of check-in it will be treated as luggage and you can pick it up on the baggage carousel when you arrive to your destination.
Our recommendation is to ask the flight crew where you should pick up the stroller when landing.
Tips for air travel with children and a newborn baby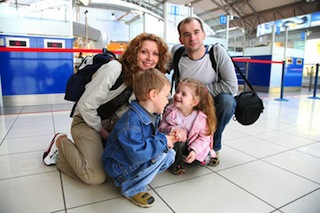 A child is not like an adult. They can be impatient, bored or tired of sitting and they won't be silent. We will give you some tips to make the trip as pleasant as possible for both of you:
Don't forget to bring food in your hand luggage. It will be a way to distract or even induce them to sleep.
It is advisable to bring a pacifier or breast-feed both when taking off and when landing. The pressure in the ears may cause them discomfort that is best to avoid.
Moisturizing creams will help combat dry skin caused during flight.
Many children as young as a few months of age are easily distracted with cartoons and songs. Don't hesitate to bring some of their favorite cartoons on your mobile or tablet to distract them.
Depending on the flight hours it is advisable to take a walk around the plane.
While waiting at the airport, you can read our guide for games to play at the airport with children.
Passing through safety checkpoint with children
The airports have a special security queue for families, while one parent passes the checkpoint the other waits with the child. The stroller must be folded down to pass the control.
There is no limit of 100 ml in hand luggage for baby food and you don't need to seal it. It is advisable to bring a bag dedicated to what the child will need in order to make the task of the security checkpoint easier. Don't forget to bring water, it is important for children to be hydrated.
What documentation do you need to travel with a newborn baby?
As a general rule, you will need permission from both parents before the child can leave the country. A passport fulfills this requirement because both parents must sign it in order to obtain it.
It is advisable to bring your baby's documentation in a bag next to your own, so that you can easily access it when required.
Getting to the plane from boarding gate with stroller
Some airlines give priority to families with young children or a newborn. Ask the personal so you can be among the first to board. If you have not checked-in the stroller, you will be able to continue to the door of the aircraft. Before getting into the aircraft the responsible staff will take the stroller for sending to the aircraft hold.
Are you worry to disturb other passengers if the baby cry?
Well, a baby crying is a normal situation and everyone has understand. A baby has the same right to fly as every other passenger,. The person having a problem with that should fly in a private jet.
Remember that the only way for a baby to complain or to ask anything is to cry. Enjoy your family time and this new experience.
Is there any difference between airlines when flying with a newborn baby or children?
Each airline can have their own differences, but basically the age requeriments are the same.
Ryanair, British Airways, Iberia, Easyjet…etc, might include into their terms a section for flying with a newborn baby or children in general. Please read it before booking your flight.
Remember that we have a complete guide about baggage requeriments with all airlines flying to Malaga. Also that we offer baby seats for all our cars, just select it while booking online.
We really hope this post help planning your family trip!