Buses & shuttles from Malaga airport
A city bus and intercity buses are available at Malaga airport. The respective stops are located in front of the arrivals area of Terminal 3.
The bus line A Express connects the airport with Malaga city in just 15 minutes; this service runs every 20 or 25 minutes.
Bus from Malaga airport to the city centre
There is a bus that connects Malaga airport with the bus station and the Paseo del Parque in the city centre, it is the Express line with a frequency of about every 25 minutes. During the summer, the schedule can be varied to make it more frequent.
Price: 4 Euros
Schedule:
The first departure from the airport is at 7 am. From the centre of Malaga at 6:30 am.
The last departure from the airport is at 00:00 hrs while from the centre of Malaga is at 23:30 hrs.
Some of its main stops: Malaga airport arrivals, Av. de Velazquez, Malaga train station, bus station, Av. de Andalucía, Alameda Principal, Paseo del Parque.
*For more information and waiting times: www.emtmalaga.es
Intercity buses
These buses connect Malaga airport with the Costa del Sol and even other provinces. Schedules and availability may vary depending on whether it is high or low season.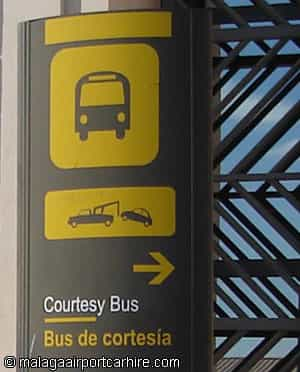 Information about buses from Malaga airport and destination bus station in Marbella.
Ticket price: 9.20€
Schedules
9:35, 12:45, 17:05, 18:15, 21:00, 22:45
Ticket price: 9.20€
Schedules
12:00, 13:15, 16:45*, 18:15, 19:45*, 21:45*
With two buses a day, this bus line connects Malaga airport with Estepona.
Price of the ticket: 13.20€
Schedule
11:45, 19:45
Schedule
7:30, 9:45, 15:00
There is currently no official schedule information, so the service could be interrupted. Check online for availability!
Departures every hour approximately from Monday to Friday: From 9:00 to 20:45.
Weekends and bank holidays: 7:55, 10:00, 12:15, 14:15, 16:15
This bus has more intermediate stops such as Hotel Melia, Carihuela, Pez Espada, Torrequebrada ...
In winter there are 2 buses a day:
11:45, 19:25
In summer there are 3 buses a day:
11:20, 17:20, 18:50
Official website
For prices, booking online, timetable and availability of buses please use the official website below:
Malaga Bus Station
If you don't find a timetable that fits your requirements or you need to go to another destination, you can choose to take the Express line from Malaga airport to the bus station. From Malaga bus station there are connections to all the above destinations and with a more extended timetable.
If you need to go by train you can visit our guide about trains from Malaga airport.
Address: Paseo de los Tilos
Telephone: 952 350 061.
Website: estabus.malaga.eu
Destinations from Málaga by bus
Some of the main destinations to which you can go by bus from Malaga station are:
Barcelona
Algeciras
Granada
Sevilla
Gijón
Motril
Lanjarón
Velez Málaga
Úbeda
Nerja
Cordoba
Maro
Torrox
Totalán
Almería
Ronda
Estepona
Marbella
Fuengirola
You can check all the destinations you can go by bus from Malaga on their website. The station also links the city of Malaga with other European destinations.
Other transport options
Although the interurban bus service covers destinies along the Costa del Sol and Andalusia, the journey can be annoying, especially in high season, due to large amounts of travellers, queues and other uncomfortable circumstances. For that reason, in order to move comfortably and swiftly along the Costa del Sol, you may prefer to hire a car at Malaga airport or booking a transfer from Malaga airport, they both are excellent alternatives, as you can enjoy dazzling landscapes and discover beautiful villages which do not appear in any travel guide. There are both excellent highways and motorways with a complete network of service stations.