Buses & shuttles from Malaga airport.
There are one urban and four interurban Malaga airport buses available. The respective bus stops are situated in front of the arrivals area of Terminal 3.
The bus line A Express connects the Airport with Malaga city in just 15 minutes; this service runs every half an hour.

The interurban Malaga airport buses are:
Malaga Airport to Torremolinos and Benalmadena (every one or two hours).
Malaga Airport to Marbella (every one or two hours). This shuttle service travels on the toll road which is fast and without intermediate stops. The cost is 8 € one-way and the journey time is 45 minutes. Ticket sales are from Malaga Airport on the bus and from Marbella in the ticket office.
Malaga Airport to Estepona (twice a day).
Malaga airport to Algeciras (twice a day).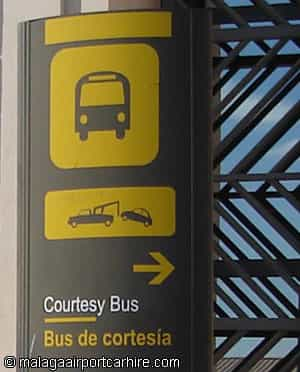 Portillo is the mayor urban and interurban bus company running along the Costa del Sol. On the company's web page is available a lot of useful information such as timetables, which vary in summer and winter: www.ctsa-portillo.com.
Malaga bus station location:
Address: Paseo de los Tilos
Telephone: 952 350 061.
Webpage: www.estabus.emtsam.es.
Although the interurban bus service covers destinies along the Costa del Sol and Andalusia, the journey can be annoying, especially in high season, due to large amounts of travelers, queues and other uncomfortable circumstances. For that reason, in order to move comfortably and swiftly along the Costa del Sol, you may prefer to hire a car at Malaga airport or booking a transfer from Malaga airport, they both are excellent alternatives, as you can enjoy dazzling landscapes and discover beautiful villages which do not appear in any travel guide. There are both excellent highways and motorways with a complete network of service stations.