Train Station at Malaga airport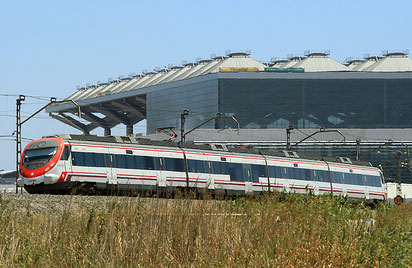 Malaga airport train station is situated right in front of terminal 3 at Malaga airport. You can take from there a suburban train to Malaga city train station Maria Zambrano which is connected to all over Spain. Also from Malaga airport you can take a suburban train to the main municipalities along the Costa de Sol such as Torremolinos, Benalmadena and Fuengirola.
You can see below the complete list of train stations along the route and the timetables.
Before you take the train to Malaga airport, we recommend checking the Malaga airport departures or, in case you are taking the train at Malaga airport station, the Malaga airport arrivals page.
The new train station at Malaga airport, finished in 2010, is just in front of the arrivals exit with better access for disabled people.
Price List
One way ticket
ZONES
PRICES
1 or 2
1,80 €
3
2,05 €
4
2,70 €
5
3,60 €
Monthly ticket
(usable twice a day)
ZONES
PRICES
1 or 2
35,80 €
3
42,00 €
4
60,85 €
5
75,70 €
*Bonotren
(10 trips)
Zones
Prices
1 or 2
11,95 €
3
13,85 €
4
18,70 €
5
25,05 €
*It can be used for more than one traveller, simultaneously, provided that they have the same origin and destination.
Discounts:
Children under six years old can travel free, provided they do not occupy a seat, to a maximum of 2 children per adult.
The 'bonotren' includes a discount per trip, it is an interesting option for groups (It can be used by several passengers who share a destination) or if you plan to use this means of transport for at least 10 trips.
Monthly subscription is the best way to save on train tickets by means of a personal rechargeable card; it requires the delivery of documentation and a valid identity card.
Train stops
Find below the stops from Malaga airport trains and the price for the ticket from the airport.
This suburban train will leave you in Fuengirola in 34 minutes, Benalmadena in 18 minutes and Torremolinos in 9 minutes.
The frequency of the trains is every 20 minutes.
The first train stops at the airport at 5:32 am and the last at 11:42 pm.
Malaga airport
Plaza Mayor - 1.80€
Los Alamos - 1.80€
La Colina - 1.80€
Torremolinos - 1.80€
Montemar - 1.80€
El Pinillo - 1.80€
Arroyo de la Miel in Benalmadena - 2.05€
Torremuelle - 2.05€
Carvajal - 2.05€
Torreblanca - 2.05€
Los Boliches - 2.70€
Fuengirola - 2.70€
This suburban train will drop you off in the centre of Malaga in 12 minutes and at the train station in 8 minutes.
The frequency of the trains is every 20 minutes.
The first train leaves at 6:44 am and the last train at 00:54am.
Malaga airport
Guadalhorce - 1.80€
Victoria Kent - 1.80€
Malaga train station Maria Zambrano - 1.80€
Malaga Alameda - 1.80€
If you need further information you can visit the Renfe official website.