Sotogrande, a dreamy coastal destination located on the beautiful Costa del Sol of Spain, is a place that captivates travelers from around the world. This idyllic corner offers a perfect blend of luxury, lush nature, and a rich history that is reflected in every corner of its streets. Whether you seek to relax on golden beaches, enjoy top-notch sports activities, or immerse yourself in Andalusian culture, Sotogrande has something special for every type of traveler.
History
Sotogrande has a rich and diverse history. In its early days, it was inhabited during Roman times and later by the Moors. During the Middle Ages, it changed hands several times in the struggle for control of the region.
In the 19th century, the estate that is now Sotogrande was acquired by the noble Hohenlohe family. For decades, it was mainly used for agriculture and livestock.
The true transformation of Sotogrande began in the 20th century when Joseph McMicking purchased the estate. Under his vision, luxurious developments, golf courses, and marinas were built, turning Sotogrande into a luxury destination on the Costa del Sol.
Today, Sotogrande remains a prestigious place with its history still visible in its culture and architecture. Its past blends with modern elegance and charm, making Sotogrande a unique place to visit and enjoy.
Activities and Places to Visit
With a strategic location between Marbella and Gibraltar, Sotogrande is known for its exclusivity and elegance. Its beautiful marinas host luxury yachts, while its world-class golf courses attract enthusiasts from all over. But make no mistake, Sotogrande is much more than just luxury; its authenticity can be found in its picturesque squares, local cuisine, and the hospitality of its people.
Sotogrande Marina
Sotogrande Marina is known for its elegance and sophistication. It is filled with luxury yachts and boats that add a touch of opulence to the maritime scene. It's an ideal place for a leisurely stroll and enjoying the view of the boats.
In the marina, you'll find a wide selection of restaurants and bars offering local and international cuisine. You can enjoy an outdoor meal with views of the Mediterranean Sea. Fresh seafood and paella are some of the specialties you shouldn't miss.
In addition to the culinary offerings, the marina features high-end shops and boutiques where you can find exclusive fashion, jewelry, and accessories.
Sotogrande Marina is an ideal place for water sports enthusiasts. You can rent various equipment, such as kayaks and paddleboards, or even take sailing or diving lessons.
During the summer, the marina often hosts events and activities, such as outdoor concerts and craft markets. Check the local calendar to see if there are any special events during your visit.
Location: https://maps.app.goo.gl/iMQrTqhEkgUKfLbc7
Castillo de Castellar de la Frontera
If you've decided to rent a car, you won't have any trouble visiting this medieval town, located just about half an hour away. The castle is the centerpiece of a picturesque medieval village nestled within its walls. The village retains its original look with cobbled streets, whitewashed houses, and stunning panoramic views.
The castle itself is a remarkable example of medieval military architecture. Its thick stone walls, towers, and ramparts provide a glimpse into medieval defensive architecture. From the castle walls, you can enjoy spectacular panoramic views of the surroundings, including the Guadarranque reservoir and the surrounding mountains. These viewpoints offer perfect opportunities for photography.
The village of Castellar de la Frontera is a cultural hub in its own right. In its narrow streets, you'll find workshops of local artists and craftsmen. Art and craftsmanship are integral to the community's life.
The surroundings of Castellar de la Frontera are ideal for hiking and outdoor activities. There are trails that take you through cork and pine forests, allowing you to explore the natural beauty of the region.
Location and how to get there from Sotogrande by car: https://maps.app.goo.gl/9K8H2y3DULtnnYfJA
Levante Market
Sotogrande Market takes place every Sunday morning in the heart of Sotogrande Marina. The typical hours are from 10:00 a.m. to 2:00 p.m. During the peak tourist season, there may be additional markets on other days of the week.
This market is known for offering a variety of local and artisanal products. You can find everything from fresh fruits and vegetables to olive oil from the region, cheeses, sausages, and local honey. There are also stalls selling handmade products such as jewelry, clothing, and crafts.
In addition to fresh and artisanal products, the market features food stalls where you can taste typical regional dishes. From tapas to paella, there is a wide variety of culinary options to enjoy.
Occasionally, the market also organizes special events, such as live music performances or activities for children. This can make your visit even more entertaining.
Sotogrande Market is a meeting point for the local community, so it's an excellent opportunity to experience the daily life of the area and meet local residents.
Additionally, during the summer, there is a nighttime market from 7:00 p.m. until midnight.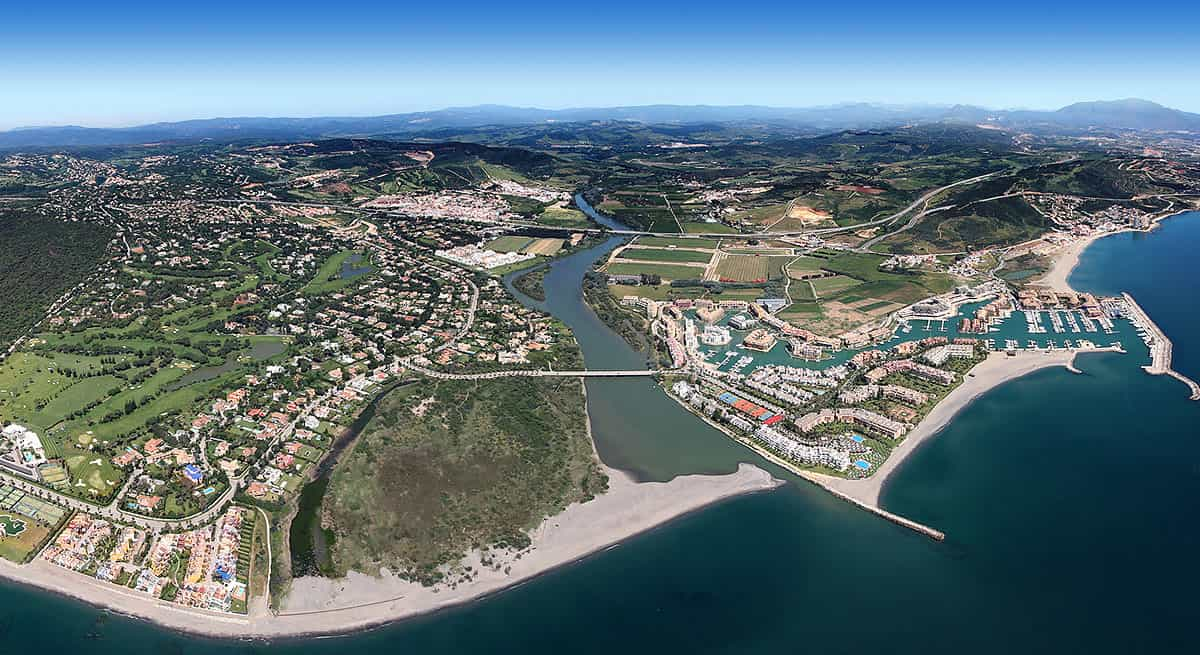 Other Activities: Golf and Polo in Sotogrande
Sotogrande, a paradise on the Costa del Sol in the province of Malaga, is famous for much more than its beaches and nightlife. For elite sports enthusiasts, this enclave is a true paradise. Two of the most exclusive sports practiced here are golf and polo.
Golf in Sotogrande is a dream come true for golf enthusiasts. The area is home to some of the most prestigious golf courses in all of Spain, with gentle hills, immaculate greens, and panoramic views of the sea. The Real Club Valderrama, considered one of the best golf courses in Europe, is the pride of Sotogrande and has hosted the Ryder Cup. Additionally, Almenara Golf and La Reserva Golf Club offer exceptional golf experiences amid stunning natural surroundings.
On the other hand, polo also holds a special place in the heart of Sotogrande. The Santa María Polo Club is the epicenter of this sport in the region and hosts some of the most prestigious polo tournaments in the world. Fans can enjoy exciting high-level matches while relaxing in an elegant and sophisticated atmosphere.
The combination of world-class golf courses and renowned polo events makes Sotogrande a unique destination for those seeking a luxury sports experience. Whether you're looking to perfect your swing on top-tier golf courses or immerse yourself in the excitement of elite polo, Sotogrande offers the best of both worlds.
As a place where sports and exclusivity merge, Sotogrande is a paradise for those seeking a high-level sports experience on the beautiful Costa del Sol.
Beaches and Clubs in Sotogrande
Discover beaches and clubs to visit when you're in the area:
Sotogrande Beach: Sotogrande Beach is one of the most exclusive in the area. It offers golden sand and calm waters, perfect for those seeking relaxation and privacy. Along the beach, you'll find high-end beach clubs offering Balinese beds, dining service, drinks, and relaxing music. These clubs create an exclusive atmosphere where visitors can enjoy a luxurious day by the sea.
Trocadero Sotogrande Beach Club: This beach club is a luxury destination in itself. It features an infinity pool with sea views, comfortable sun loungers, a spa area, and a fine dining restaurant. It's the perfect place to unwind and enjoy impeccable service while gazing at the Mediterranean.
El Octagon Beach Club: Located in Sotogrande Marina, this beach club is known for its exclusivity. It offers a pool, stylish loungers, and a high-quality restaurant. It's a popular spot for water sports enthusiasts and luxury yacht lovers.
Torreguadiaro Beach: Although not part of Sotogrande itself, nearby Torreguadiaro Beach also features exclusive beach clubs. These clubs offer luxury services, cocktails, and chill-out music in a spectacular beachfront setting.
Alcaidesa Beach: Alcaidesa is another area near Sotogrande with an exclusive beach. You can find beach bars and beach clubs that offer a relaxed atmosphere and high-quality services.
How to Get to Sotogrande
There are different options for getting to Sotogrande; let's explore them:
Bus Link: You can opt for a bus journey from Malaga Airport to Sotogrande with a brief stop in Marbella. The total travel time is approximately 2 hours and 38 minutes.
Train and Bus Combination: An alternative is to take a train from Malaga Airport Train Station to Fuengirola Train Station and then continue by bus from Fuengirola to Guadiaro. This option has a total travel time of approximately 3 hours and 10 minutes.
Direct Taxi Ride: For a more direct journey, you can choose a taxi from Malaga Airport to Sotogrande. This option has a travel time of approximately 1 hour and 9 minutes.
Driving Your Own Car: If you have a vehicle, you also have the option to drive from Malaga Airport to Sotogrande. In this case, the estimated travel time is approximately 1 hour and 9 minutes.
Driving to Sotogrande
If you decide to rent a car at Malaga Airport and want to drive to Sotogrande, the route is quite straightforward. We will guide you on how to get to Sotogrande from Malaga Airport, and we'll provide other options in case you don't have a car.
From Malaga Airport (AGP), take the N-340/MA-21 westward.
Enter the AP-7 from the N-340/MA-21 towards Torremolinos/Cádiz.
Continue on the AP-7 (toll road) for approximately 97.5 km.
Take exit 1094 toward Guadiaro/Castellar de la Frontera/Sotogrande/Shopping Center.
Follow the signs to Sotogrande, passing through Av. de Paniagua and P.º del Parque.
Turn left onto C. Fernando el Santo in Sotogrande.
With these key points, you should reach Sotogrande from Malaga Airport without any issues.