Although August is the favourite month for many people looking to disconnect, September in Malaga is another recommended month. Why visit us in September? We are going to give you all the information about the weather and things to do this month. We hope you will be able to decide when is the best time to visit Malaga.

While August in Malaga stands out for its high temperatures even during the night, September is starting to give us a break. You can still enjoy the beach at the same level as in August, you can sunbathe and you can also enjoy many other activities that are exclusive to this month. Do you want to discover all the secrets that September has to offer in Malaga?
Weather in Malaga in September
In September the summer has not yet left Malaga; the temperatures are good for those who want to enjoy the sun and the beach. Sunset strolls along the seashore are also particularly pleasant.
The weather in September is generally sunny, with mild temperatures and nights. There will be less of the heat typical of August and the end of July, although there are still many hot days ahead of us.
Daylight hours in September
You may be interested to know when it gets dark in September; driving on unfamiliar country roads at night can be confusing for some drivers, although nowadays most cars and phones have GPS navigation, so this should not be a problem.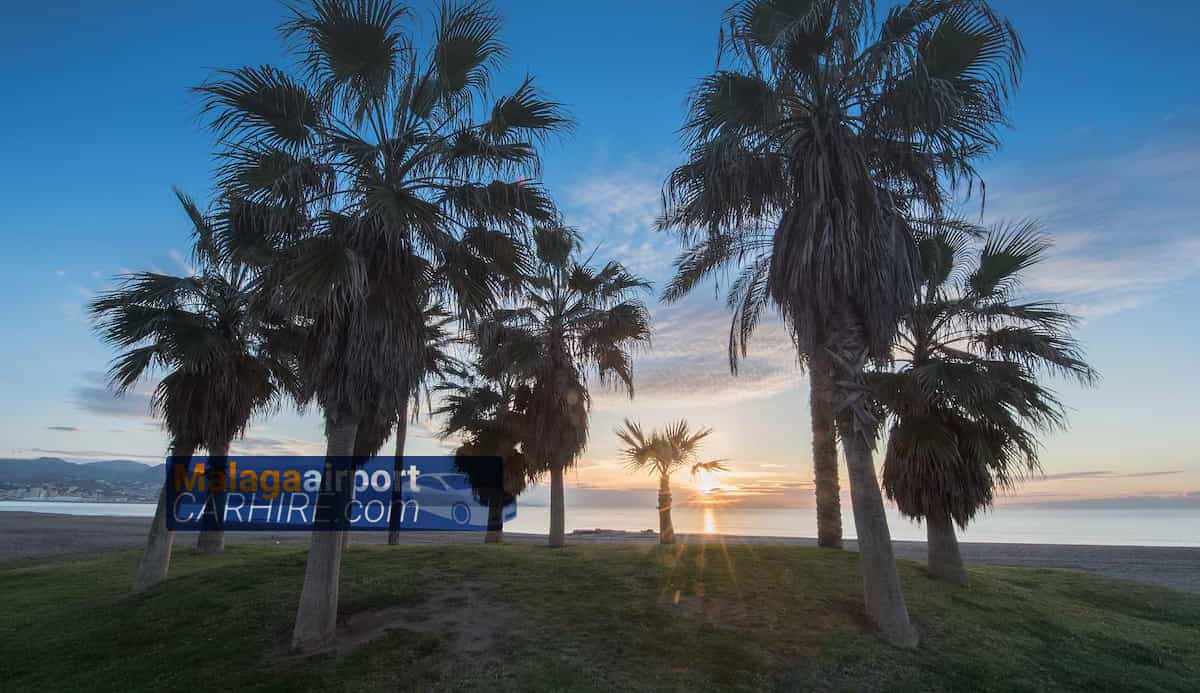 Sunrise arrives at about 8 am and the sun begins to set at about 8:30 pm. At the end of September the sun begins to set around 8:00 pm after having risen at 8:12 pm with about 11:48 hours of luminosity on the last day of the month.
The day starts to get shorter from the end of June in Malaga, when the nights are longer; we still have enough light to enjoy a long day full of activities and things to do in September.
Malaga temperature in September
The temperature in September in Malaga is starting to drop compared to August, but it still feels like summer. It is a perfect temperature to continue enjoying the beach or to continue those sunset walks along the seashore that we recommended in August.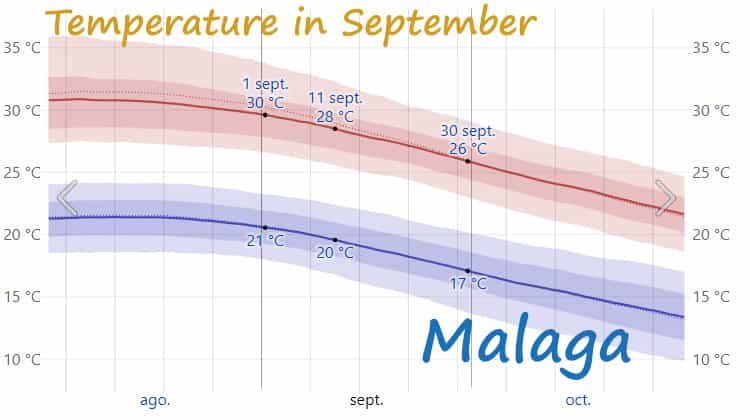 As you can see in the graph above, the average highs are between 30ºC and 26ºC, while the lows range between 21ºC and 17ºC, depending on whether it is the beginning or the end of September.
During the day the heat sensation can be high, so we still recommend not to leave pets or people inside the vehicle with the windows closed.
Rain in September in Malaga
During your stay in Málaga in September, you'll be treated to predominantly dry and sunny weather. Rainfall is sparse during this month, which means the chances of encountering a rainy day are minimal. At the beginning of September, the likelihood of rain is less than 3%, providing you with perfect weather for outdoor exploration. Towards the end of the month, there's a slight possibility of rain, reaching around 12%, still meaning that most of your days will be filled with sunshine and exciting activities.
The presence of clouds is uncommon in early September, ensuring you a mostly clear and bright sky as you immerse yourself in all the wonders Málaga has to offer. As we approach October, the possibility of clouds increases slightly, reaching around 40%. However, this only adds a picturesque touch to the sky, highlighting the beauty of the region and creating a charming atmosphere for your tourist adventures. Get ready to experience unforgettable moments under the warm September sun in Málaga!
Going to the beach in September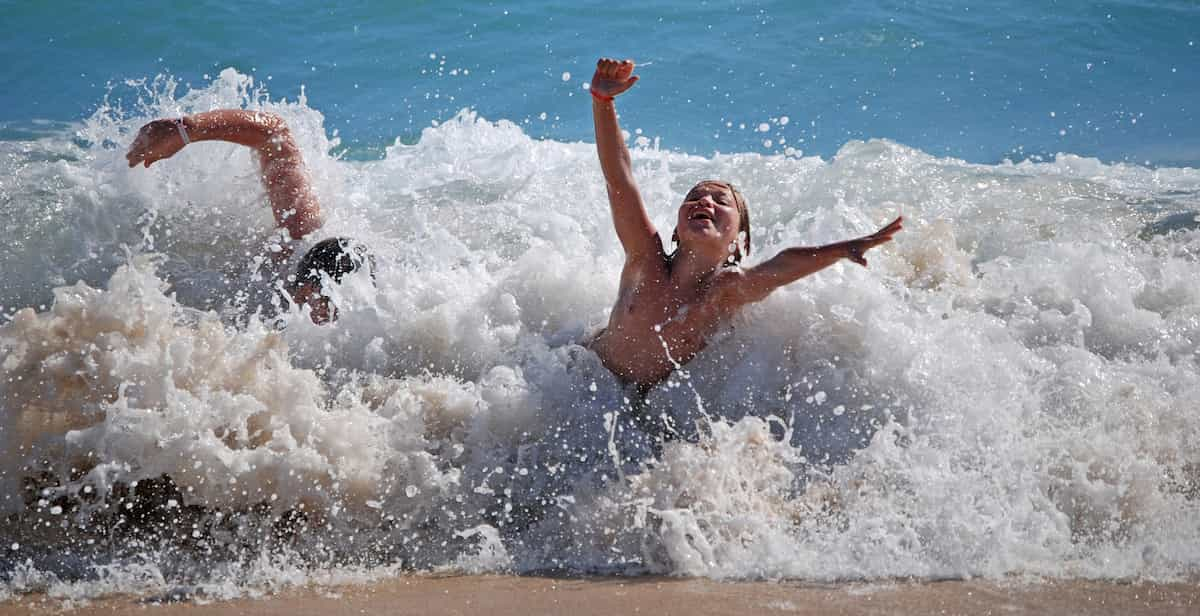 September is a highly popular time for a beach getaway, offering the added benefit of fewer crowds. The water temperature ranges between 23°C and 21°C by the end of the month, making it ideal for invigorating dips or even leisurely swims in the sea.
Taking a dip at the beach in September is truly soothing and invigorating. However, it's important to exercise caution as the sun's rays can still be quite intense even while you're in the water. We strongly advise not to overlook the use of protective sunscreen to prevent sunburn. Your safety and comfort are our top priorities as you enjoy the beach during September.
Recommended clothing in September
During the day in September it is warm enough to wear shorts and open shoes all day long. In the evening you can still enjoy a pleasant temperature, but if you plan to be on the promenade during the night, it would be ideal to wear something with long sleeves in case you feel a chill in the air.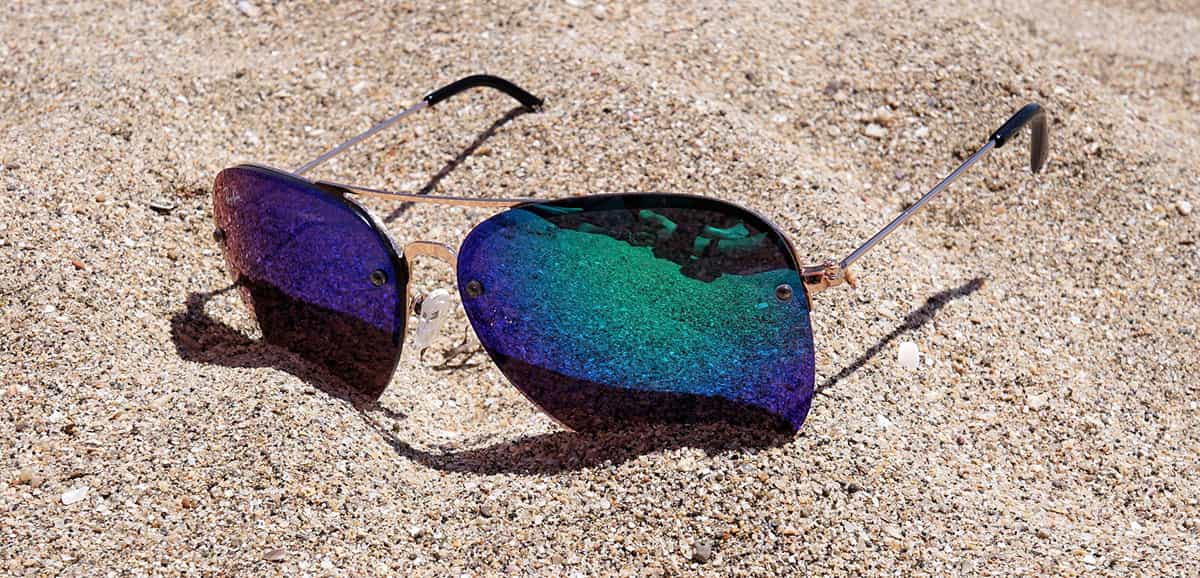 Get ready to dive into the vibrant atmosphere of September with a cool and relaxed style! During this month, you can explore both charming inland villages and beautiful beaches with the same comfort and flair.
Here's a must-have list that will accompany you on your adventure:
Sunglasses to add a touch of glamour and shield you from the sun's sparkling reflections on the water.
Swimming trunks, as the inviting waters beckon you for limitless fun.
Short-sleeved t-shirts, to showcase your style while feeling the gentle coastal breeze.
Open-toed footwear that will connect you with the golden sands and cobblestone streets alike.
Sunscreen, your ally against the sun's embraces, keeping your skin radiant and cared for.
Cap or hat, an accessory that not only adds a fashionable touch but also shields your face from the dancing sun.
And as you plan your perfect ensemble, bear in mind that as September transitions towards October, the scorching heat gives way to milder temperatures.
What to do in September in Malaga
While September remains a beach and pool-centric month, its slightly milder temperatures beckon you to explore its villages and indulge in numerous activities, which we'll detail below.
Are you a fan of savoring delicious food and discovering new places? September is tailor-made for you. We'll highlight some of the most notable events, just in case you're considering when to visit Malaga. And if you're curious about the ideal time to experience all that this enchanting destination has to offer, check out our guide on "when to come to Malaga" for valuable insights.
September fairs in Malaga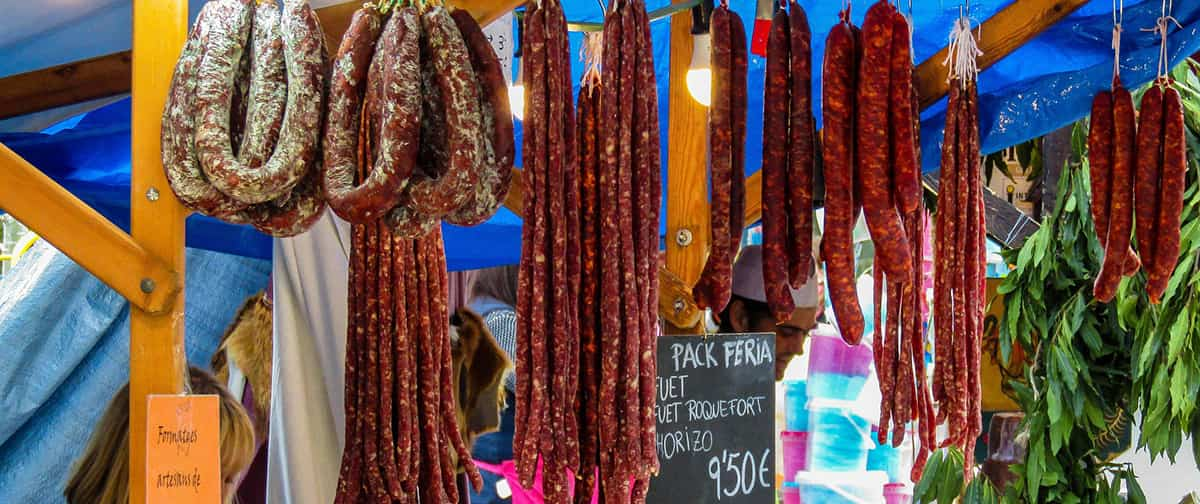 In September there are many fairs in our province, we recommend you to visit some of them to immerse yourself in our culture and traditions:
Ardales Fair
If you like the typical products of our region and want to get to know the festive atmosphere of Ardales, don't miss this fair that takes place at the beginning of the month.
When: First week of September.
Location: https://goo.gl/maps/ETTD2kBdQcDqfhbx7
Istan Fair
The Istán Fair is a colourful and festive event that provides a unique experience in this charming village. Traditionally, this fair usually takes place during the weekend closest to September 29th. Over these days, Istán adorns itself in its finest attire to celebrate with joy and tradition.
When: It is usually the weekend closest to 29 September.
Location: https://goo.gl/maps/iLyoqe44EsehvJcTA
Ronda Fair
Situated in one of the most stunning landscapes of the region, the Ronda Fair appeals to both locals and visitors alike. During these days, the streets are filled with exciting activities, festive booths, and a cheerful atmosphere that reflects the city's unique identity.
When: First week of September.
Location: https://goo.gl/maps/PaMv5BtPpQf2RN9E6
Pilgrimage and Fair of Torremolinos
The Torremolinos Pilgrimage and Fair, at the end of September, invites you to a festive experience that blends the spiritual and the lively. This celebration begins with a religious procession in honor of the Virgin of Carmen, followed by a vibrant transformation with streets filled with booths, lights, and live music. Enjoy flamenco dances, performances, and local culinary delights.
When: End of September.
Location: https://goo.gl/maps/3AuGP9aMwc1pTuxN6
Mijas Pueblo Fair
The Mijas Pueblo Fair, which takes place during the second week of September, invites you to immerse yourself in Andalusian authenticity with a festive flair. The streets of the charming village come alive with booths, live music, and the tempting aroma of local cuisine. Flamenco dances, traditional attire, and a lively atmosphere create a unique ambiance to enjoy this celebration that highlights the culture and joy of Mijas.
When: Second week of September.
Location: https://goo.gl/maps/Jx72H6kN5jResmj9A
Feria de la Vendimia en Mollina
The Mollina Grape Harvest Fair, which takes place during the first week of September, is a vibrant tribute to the winemaking tradition. This event celebrates the grape harvest and the rich wine culture of the region. During these days, Mollina comes alive with colourful booths, live music, and wine-related activities. Enjoy tastings of local wines, typical dishes, and entertainment in a festive atmosphere that honors an essential part of the town's history.
When: First week of September.
Location: https://goo.gl/maps/DTfL3LVFM42dnssy9
Festival of Wonders in Nerja
The Festival of Wonders in Nerja, which takes place between the first and second week of the month, invites you to dive into a world of creativity and entertainment. This event blends art, music, and culture in a spectacular setting. The streets are filled with vibrant stalls, live performances, and artistic exhibitions spanning a wide range of genres. From live music to street art, the festival offers a dynamic and diverse experience that showcases Nerja's creative vitality.
When: Between the first and second week of the month.
Location: https://goo.gl/maps/yGsVNaJAC1MGAxLR7
More activities in September in Malaga
In addition to the traditional fairs, there are many other events you can attend in September. Are you in?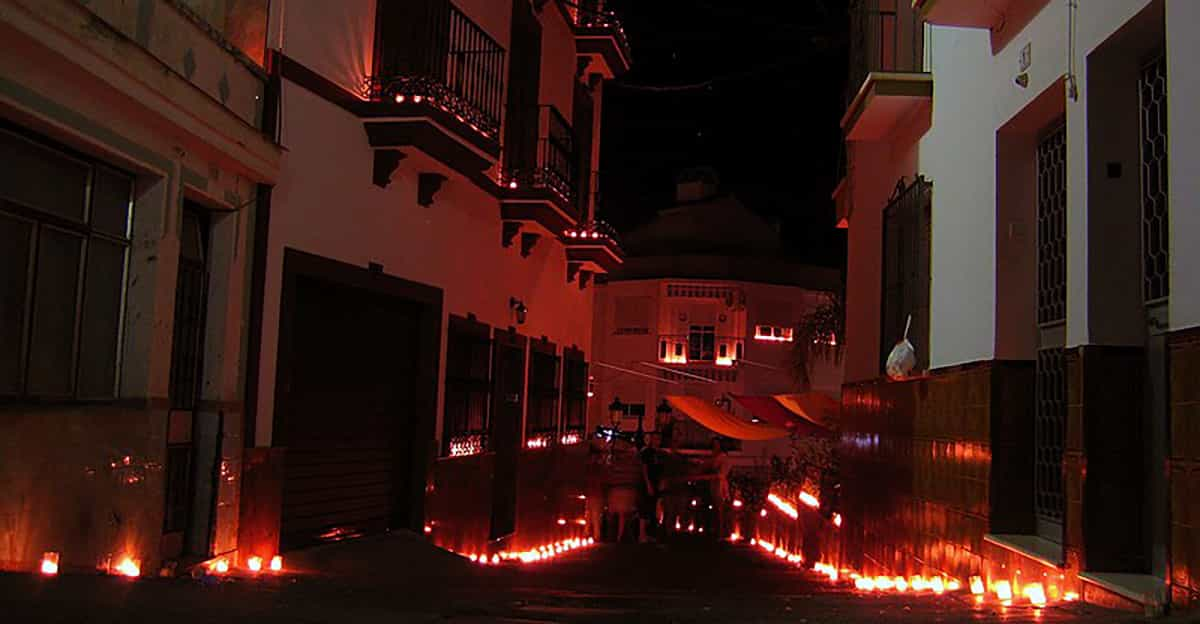 Luna Mora de Guaro
The Moorish Moon of Guaro is a recommended event that takes place in mid-September. Due to its location, we recommend going by car or using private transportation. In the area just before reaching the village, they set up an open-air parking area due to the large number of visitors. It's a spacious parking lot where you won't have any trouble finding a spot to park your car.
During these days, the village of Guaro is adorned with candles that illuminate all its streets from sunset, creating a beautiful spectacle. There's a wide variety of stalls offering crafts and typical products of the region. Additionally, you can dine at one of the many food stalls or enjoy a delicious sugarcane juice as you stroll around.
Please note that during the Moorish Moon event, non-residents are not allowed to access the village by car. You'll need to use the designated parking area and take a bus from there, which departs every few minutes.
The Raisin Day in El Borge
A holiday in honor of the raisin of Borge, which is the main producer of raisins in our country. During this day, you can witness the process of making raisins, from the grape harvesting to the drying and packaging.
Almond Day in Almogia
A special day to celebrate in Almogía, where you can not only enjoy local products made with almonds, but also savor cheeses, desserts, and wines from the area. The day is accompanied by traditional verdiales music and dance, as well as demonstrations of artisanal trades connected with almonds.