Malaga Airport Taxis
Taxis at Malaga airport are white and have a blue strip on the sides of the vehicle. There are also licensed private taxis that also carry a name tag (SP). These private taxis can be booked in advance so you know what you will pay from the beginning.
In the case of private taxis you will be able to choose the model of the vehicle and even the day of return to the airport, so they are ideal to enjoy a comfortable transfer that will pick you up and take you to where you tell with a fixed cost.
You can read more information about Malaga airport transfers here or you can book directly a taxi from here.
The main advantage is simplicity, as you book and pay online with total clarity, there are no surcharges and the driver speaks English fluently.
You can choose the vehicle model that best suits your tastes or needs. From 4-passenger vehicles and capacity for 3 suitcases to minibuses of up to 19 passengers and 19 suitcases.
If you travel in a group, sharing the price of a minibus can be really competitive. Are you visiting Malaga with other families? Don´t you rather travel together instead of in different vehicles?
What about making an excursion? Just choose where to go!
The driver is aware of possible delays and you will not have to worry about timings, you will find the driver waiting for you in arrivals with a clear sign.
Availability of baby and child seats for extra safety.
In addition, these types of vehicles are very comfortable to go out at night, you won't have to worry about driving.
Should I take a taxi at the airport or rent a car?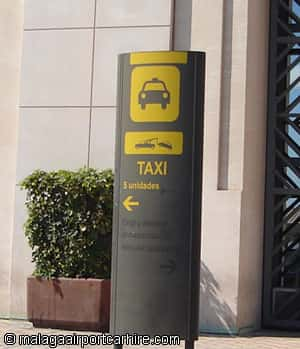 We can only recommend you to rent a car, you are on a page where we can process your reservation with total security and you do not need to make any payment in advance.
Do you need a car or a taxi? You should answer some questions:
Is your destination well connected by other means of transport?
Would you like to visit other places in the province?
Do you like to be self-sufficient?
A rental car is going to be cheaper than a taxi on very few journeys, so it is the cheapest option if you plan to visit more than the surroundings of your resort.
In case you still want a taxi at Malaga airport we recommend you to useusing malagataxi.co.uk