The airline plans to maintain the flux of passengers travelling to the Costa del Sol thanks to the connections with a stopover at Palma de Mallorca
The German airline, Air Berlin, will be making cuts in their direct flight operations at Malaga Airport. The company's assistant manager for Spain and Portugal, Pablo Caspers, presented in the Thyssen Museum yesterday, the routes and frequencies for the upcoming winter season, in which a 33% reduction of seating on direct flights to Malaga, was discussed. The company, as the rest of the airline sector, will be releasing their new program on the 1st of November; and have put 125.000 seats on sale for direct routes, compared to the 186.864 that they put on sale for the winter season last year.
Nevertheless, Caspers was convinced that, in the end, the balance of passengers passing through the terminal in Malaga, will be very similar to last year, given that with the seating reduction on direct flights, there is a notable increase of passengers in the connections with a stopover at Palma de Mallorca, where this company has an operations centre. "The bookings are improving. If we see an increase in demand, we will offer larger planes, like the ones operating last year", he said.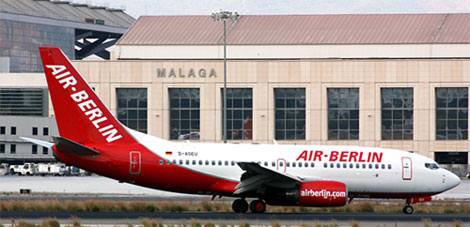 Factors
Amongst the factors that condition this modification in the winter planning, Caspers referred to the economic instability, to the impact of Germany's air tax that entails a payment of eight euros per passenger, or the effects on the company of the Arab's commotions. In this sense, he stated that Air Berlin is the main German operator in Egypt.
The airline's assistant manager for Spain and Portugal, also declared that there is no intention of reducing routes this winter, but there will be of frequencies. This way, the company connects Malaga with five national destinations: Palma de Mallorca, Alicante, Barcelona, Bilbao and Valencia, but all via Palma. To these, they add twelve European airports and 17 German, many of them with a stopover at Mallorca's hub.
Caspers evaluated the first nine months of the year, in which Air Berlin has reduced the passengers on direct flights in Malaga, 0.9%, or in other words, 6.000 less. This decrease has been compensated with the increase of 9.000 travellers on flights via Palma.
The airline's assistant manager for Spain and Portugal, who stated that Malaga is the second busiest destination in Spain, urged the hotel managers to advance in the commercialisation and search of clients, to whom he reproached the dependence on tour operators. "We need a better interconnection between the airlines and the sector", he explained. He also considered that the customer services quality is an important factor that Spain should look after nowadays, because the increases registered are determined by the North African conflicts.