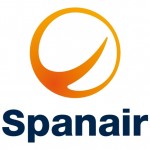 Around 350 passengers were affected last Saturday due to the cancellation of the four Spanair flights that were programmed at Malaga airport to travel to or from Barcelona.
The first flight would have landed from Barcelona-El Prat airport at 8:15am, the second one was programmed to leave towards Barcelona at 8:55am, the third plane would have landed at Malaga airport from Barcelona airport at 9:20pm and the fourth would have departed Malaga at 9:55pm.
Malaga airport sources informed that the situation at the airport is normal after Spanair's suspension and that the company's staff are attending the customers that visit the offices.