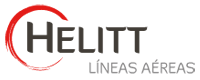 Helitt Airlines has announced that they will be launching a new route that will be connecting Malaga airport with Nador (Morocco) and will recover the flight that Spanair used to operate that connected Palma de Mallorca with Nador every Saturday as from the 24th of March.
With the aim of increasing its number of flights, the airline plan, as soon as possible, to announce other routes from Mallorca that would allow operations between the Baleares and some of the destinations where they are currently operating.
Furthermore, as from the following 4th of May, Helitt will be connecting Malaga with Casablanca (Morocco), with a frequency of four flights per week, operating on Mondays, Wednesdays, Fridays and Sundays.
At the Malaga and Melilla airports, this airline also deals with the 'handling' service, while the company responsible for the rest of the duties is Iberia.