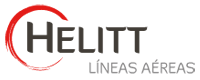 Helitt, the Malaga-based Andalusian airline, that began to operate at the Hondarribia Airport last month with connections to Barcelona and Madrid, has now programmed a flight to Malaga for the Holy Week (the Spanish Easter).
According to the announcement on their website (www.helitt.com), this flight will be leaving Hondarribia at 10:40am on the 5th, on Holy Thursday, returning on the 8th, on Sunday, departing from Malaga airport at 19:15hrs. The price will be 80 euros per journey.
The airport in Guipuzcoa trusts that all these new flights will help overcome the negative streak of travellers. As well as Helitt, the other low-cost airline Vueling, is planning to land at Hondarribia in March. They will be offering connections with Barcelona.
Loiu-Venice with Volotea. The low-cost airline Volotea will be connecting Loiu, the Vizcaya airport, and Venice with three flights per week as from the 23rd of April, at 19 euros per journey, as informed by the company themselves. This way, the new Barcelona-based company will be the first to do this route until Summer when Vueling will start doing the same connection as well.