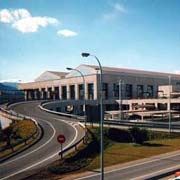 At Malaga airport were attended last year nearly 100,000 disabled passengers. The busiest months of the service were May, September and October.
For passengers who require this type of service are available sixteen meeting points situated throughout the airport grounds, both inside and outside the terminals and a number of technical and material resources, such as wheelchairs, adapted vehicles with lifting platform, vans and three information desks, among others.
The service which is available in all Spanish airports assists passengers at the airport of arrival with luggage, moving from the seat to the door of the plane, the exit to the baggage hall, passing controls, and accompanying to a request meeting point.
At transit airports will be provided the required assistance, including, if necessary, leaving the plane, transfer through the terminal, boarding and so on.
In the airports of departure is available the service of pickup of the person at the meeting point and accompanying to the check-in counter, help in the necessary procedures for billing, accompanying to the boarding area, past the security checkpoints or customs, boarding and transport to designated seat on the plane.