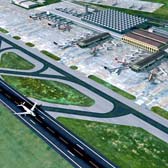 Malaga airport's second runway will become completely operative on Tuesday, culminating the great transformation of the facilities that will allow to double its capacity and assure its future viability.
Around 550 million euros were needed for the construction of the new runway, that will be extended from a maximum capacity of 32 aircrafts every hour, up to 70. In fact, it currently reaches the maximum amount in certain peak points in July and August, which are the busiest months at the airport.
The incorporation of the new runway will allow the operations to be organised with greater ease, as it will now have a double configuration for the landings and pick-ups, that will be carried out on different runways and depending on the wind.
This new infrastructure also assures that Malaga airport has a wide margin of increase in operations and passenger traffic, as its current maximum capacity is of almost 30 million passengers, compared to the 12.8 million that it handles today.
The second runway puts a full stop to the 'Plan Malaga', that has meant an investment of 1.600 million euros over the last decade for the extension of the aeronautical facilities. The new passenger terminal, parking lots, a new suburban train station, the duplication of the track on this railway service and the accesses by road complete the improvements that have been carried out at Malaga airport and that will finally be completed on Tuesday with the second runway.
This duplication of the runway also means an important qualitative step forward, as the dimensions are bigger than the current piste. The length of the runway is 2.750 metres, to which another 340 metres are added as a help to the take-off run, which will allow it to receive the larger new-generation airplanes, like the Airbus A-380 and the Boeing 747-400, destined exclusively for the long transoceanic flights.
The width is 45 metres, with another seven additional metres on each margin, occupying 69 metres of surface. In total, 213.000 squared metres of surface are asphalted on a piece of land near the Guadalhorce riverbed, which forced an important work of engineering to stabilise and flatten the land. Plus, the width of the river was reduced by 70 metres, which forced the improvement of approximately 800 metres to compensate the loss of drainage capacity in that part of the river.
Next to the main runway, the construction works have also included a service infrastructure such as four access lanes and six lanes towards the runway and one for running, parallel to the current lane. It also has a capacity for 27 parked aircrafts. The construction of the second runway has come with a complete remodelling, modernisation and improvement of the current runway.