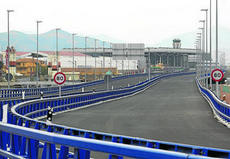 In a few weeks' time is scheduled the opening of the southern access road to Malaga Airport which allows entry or exit to the airport facilities directly from the motorway A-7 up near Guadalmar.
This new infrastructure is expected to open during June and will facilitate the arrival of passengers to the airport grounds and terminals.
In parallel, it is expected that during this month also begin works on the last structure that remains unfinished, in order to complete it before the end of the year, when the slip road will enter into service with all its possibilities.
Until then, the new slip road will only serve for getting to the Costa del Sol airport, while for leaving it passengers will still have to use the old road.