Melilla Airport will be offering new connections to the airports in Malaga and Madrid as from the 1st of January 2012, and that will be operated by the Andalusian company Helitt Airlines, which is based in Malaga.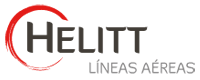 The route between Melilla and Madrid has a new arrival flight available (Madrid-Melilla) on Fridays and another departure flight (Melilla-Madrid) on Sundays. Both will be arriving at and departing from the T2 Terminal at the Madrid Barajas Airport.
Regarding the frequencies with Malaga Airport, there will be a new flight (Malaga-Melilla-Malaga) programmed daily, and a new flight (Malaga-Melilla) every Friday.
This way, Melilla Airport increases up to 22 weekly connections with Madrid-Barajas, 14 of them operated by Air Nostrum and 8 by Helitt.
It will reach up to 130 frequencies with Malaga Airport, shared between the three airline companies that operate at Melilla Airport: Air Nostrum (76), Helitt (28) and Ryjet (26).