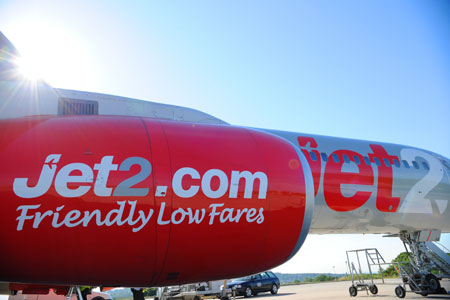 The Costa del Sol city of Malaga becomes along with Alicante the Spanish destination with plenty of low cost flights offered by the airline Jet2.com both this summer and next winter season, for which are scheduled a 65% more seats on flights to Malaga, the capital of the Costa del Sol, and the airlines´ eight British bases.
For next winter, the low cost airline will increase flights to nearly a hundred thousand seats in the whole of flights to Malaga from its bases in Manchester, Belfast, Glasgow, Blackpool, Edinburgh, Newcastle, Leeds Bradford and East Midlands.
The Costa del Sol remains a very comfortable destination for British tourists, who despite trying in other countries, eventually return. Certainly the weather is a big draw, but the prices of flights are the true claim when travelling to Malaga, said the general director of Jet2.com, who also nuanced that security at the destination in its various facets is an increasing value in the Costa del Sol.
Among the developments planned for the coming winter, the route from Glasgow will have for the first time flights to Malaga in winter, twice a week, from February 7, 2014. In addition, there will be an increase in flights to Malaga from Edinburgh and East Midlands, which will have two weekly frequencies. Also from Leeds there will be five flights a week and from Manchester and Newcastle to Malaga three flights a week. Tickets are now on sale.
For the upcoming summer season, which begins with the time change scheduled for the morning of March 30, the connections with the eight bases of this low cost carrier in the UK will increase seats by 18% compared to last year.