Malaga airport airlines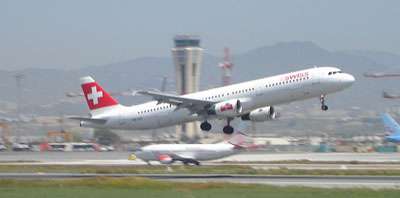 The following list contains useful contact information about Malaga Airport Airlines.
Find also at malagaairportcarhire.com information about Malaga airport arrivals and Malaga airport departures.
The information below may vary from time to time, if any of the phone numbers below are inaccurate, please let us know and we will fix it as soon as possible.
Airlines information updated in January 2018.
Malaga airport airlines

| A | Phone | B | Phone |
| --- | --- | --- | --- |
| Aer Lingus | 902 502 737 | BA CityFlyer | 902 111 333 |
| Aeroflot | 900 901 528 | Blue Air | 902 570 852 |
| Air Arabia Maroc | 807 299 517 | British Airways | 902 111 333 |
| Air Europa | 902 401 501 | Brussels Airlines | 807 220 003 |
| Air Malta | +356 229 99 620 | Bulgaria Air | (+359) 2 402 04 00 |
| Air Nostrum | 901 111 500 | C | PHONE |
| Air Transat | 902 570 330 | Corendon Dutch Airlines | +31 (0) 23 75 10 600 |
| Alitalia | 902 100 323 | | |
| E | Phone | F | Phone |
| Easyjet | 902 599 900 | Finnair | 901 888 126 |
| Eurowings | 900 838 113 | Flybe | +44 (0)1392 683152 |
| Evelop | 971 448 082 | | |
| G | Phone | H | Phone |
| Germania | 952 048 270 | Hélity | +34 856 59 01 46 |
| I | Phone | J | Phone |
| Iberia | 901 111 500 | Jet Time | +45 32 46 73 00 |
| Iberia Express | 901 200 424 | Jet2.com | 902 881 269 |
| K | Phone | L | Phone |
| KLM | 913 754 546 | Lufthansa | 902 883 882 |
| | | Luxair | 00352 2456 1 |
| N | Phone | P | Phone |
| Norwegian | 902 848 080 | Primera Air | +354 527 6000 |
| R | Phone | S | Phone |
| Royal Air Maroc | 902 210 010 | SAS Scandinavian Airlines | 902 405 033 |
| Ryanair | 00 44 871 246 0011 | Small Planet Airlines | +370 5 2525660 |
| | | SmartWings | 420 220 116 686 |
| | | Swiss International Air Lines | 901 116 712 |
| T | Phone | V | Phone |
| TAP Air Portugal | 901 116 718 | Volotea | 807 403 170 |
| Transavia.com | 902 044 350 | Vueling | 902 808 022 |
| Travel Service | +420 255 700 827 | W | Phone |
| Tui Airways | 914 141 481 | Wizz Air | 807 444 041 |
| Tuifly | 902 012 512 | | |
| TUI Fly Belgium | +32 70 22 00 00 | | |
| Turkish Airlines | 952 974 611 | | |