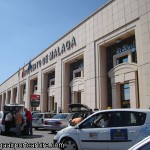 With the recent expansion of Malaga airport, have be created more than 600 new parking spaces increasing the quantity and quality of available parking. Users now can choose between Express parking, long stay parking and VIP parking. The objective is to suit all needs and respond to the demands of passengers at Malaga airport.
New is the long stay car park next to the cargo terminal, which has very competitive rates and is therefore a good solution to park the car for long periods. It is not only economic but also convenient because it has a free bus service and the traveler arrives at the terminals in a few minutes.
Thus are met the requirements of travelers living in Malaga, national or foreign, second home owners or passengers traveling on business or tourism who are leaving for a longer period of time.
Another module at Malaga airport is the VIP parking for executives, first class customers or high income tourists who require unique features such as agility and speed, discretion and comfort. With this exclusive service the customer only has to leave the car keys at the entrance to the terminal, the service takes care of everything else.
The VIP Malaga airport parking also offers additional services such as repairs, revisions at the chosen dealer or passing the MOT, interior cleaning and refueling of the vehicle.
For passengers who appreciate swiftness is available the Malaga airport Express Parking which allows to park the vehicle close to the terminals without losing too much time to pick up or accompany travelers.