Malaga airport arrivals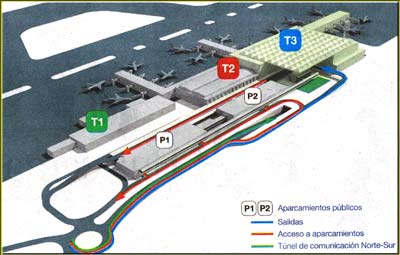 On this website you will be able to check the arrivals at Malaga airport in real time, as well as useful information if you plan to take a flight with arrival at the airport. We will explain all the details you need to know, whether you have rented a car with us or if you want to take any other transport options after your arrival.
The arrivals area is always located on the ground floor of the airport and is divided between Terminal T2 and Terminal T3. Flights coming from non-Schengen countries usually arrive to Terminal T2 although all passengers will leave through Terminal T3 regardless of their flight origin.
Where do you pick up your luggage on arrival?
Your will find a baggage carousel as soon as you leave your flight, just follow the signs. Whether you pick up your luggage at Terminal 2 or 3, you should head towards the end of Terminal T3 to exit the building.
Terminal 2 has 11 baggage carousels while T3 has 7 carousels for flights originating in the European Union, 4 carousels for non-European flights and 1 special baggage carousel.
In the event of a lost luggage or any related problem, you must inform your airline.
What to do after you pick up your luggage?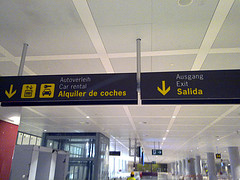 If you arrive on a flight from a country outside the European Union, you must pass passport control when you disembark from your flight.
After picking up your luggage, you should proceed to the exit at the end of the T3 arrival terminal.
If you come from outside the European Union you may need to declare some goods being transported or pass Customs control.
Depending on the means of transport you want to use you will have different options that we will consider below.
Malaga airport arrival services
Before leaving the arrivals hall you can visit the Duty-Free shop, located in Terminal T3.
You can take a break in the cafe-restaurant Gambrinus.
Currency exchange services are available at both airport terminals and ATMs are located in the arrivals hall where you can withdraw money if you need it.
Transportation options from the airport
The arrival terminal at Malaga airport is located in the T3, whether your flight arrives from Europe or from outside this community area. After taking your luggage from the conveyor belt, you must go to the exit of the terminal, where you will also find someone from our company waiting to give you directions.
Where to take a bus
After leaving the arrivals terminal you will find a bus ticket counter (in case you want to use it and have not bought your tickets online), you can read more about buses from Malaga airport in our guide.
Where to take a train
If you want to take a train, after exiting the arrivals hall you should go along the left side of the road, the train stop is less than 5 minutes walk. Remember to visit our guide about trains from the airport.
Where to take a taxi
If you have booked a taxi at Malaga airport from one of the websites that we recommend you will find someone waiting for you. They will take you to the vehicle and help you with your luggage.
Where to go when renting a car
If you have finally decided to rent a car with us, our staff will personally inform you on arrival. Either way, just exit the terminal, turn right until you see a stop sign for courtesy vehicles. Our voucher has also further indications.
Live schedule of flights arriving at the airport today
You're not coming, but are you planning on picking someone up? Then the flight schedule with arrival at Malaga airport can be useful. For more reliability we have decided to include the official link of AENA, just follow the link: https://www.aena.es/en/malaga-costa-del-sol.html