Malaga airport arrivals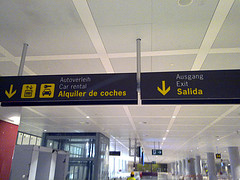 Arrivals at Malaga airport are currently taking place in the old T2 and the new T3 terminal at Malaga airport. Meanwhile at the T2 arrive flights from many low cost companies and non-Schengen countries, at the T3 operate mostly regular airlines and Schengen flights. Customers arriving at the T2 will be directed to the T3 which is about 300 metres away to clear security and pick up their luggage.
Express parking and parking facilities at Malaga airport are located in the facilities opposite the T2, about 300 metres from the T3.
Public transport at Malaga airport is located centrally and conveniently at the airport plaza, located outside the arrivals hall of the new terminal T3. From there leave Malaga airport taxis, airport pickups of car rental companies, the commuter coastline train from downtown Malaga to Fuengirola, the shuttle bus to Marbella and a public bus to Malaga.
In the new T3 terminal and Terminal 2 arrive flights from the following companies: Malaga airport airlines
Live arrivals to Malaga airport