Malaga airport departures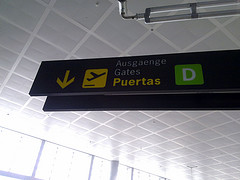 It is time to return and you need information about Malaga airport departures terminal. From our website we will provide you with all the information you need, whether you are returning by public transport, taxi or one of our rental cars.
The Malaga airport departure terminal is located on the first floor, the lower floor is the arrivals terminal.
When to go to the airport?
It is officially recommended to check-in at the airport at least 3 hours earlier if you are taking a non-Schengen flight and 2 hours if your flight is to an EU destination.
How to get to the departure terminal?
Depending on the means of transport used you can access the departure terminal in one way or another:
The bus will drop you off in front of the arrivals terminal, you will have to get on the next floor in order to access the departures terminal.
When leaving the airport train station, you must use the elevator or escalators to reach the top floor.
The taxi will drop you off in front of Malaga airport departures hall. You can book a taxi online or by phone.
If you hire a car with us we will provide you with precise directions. You will have to return the vehicle to us and we will take care of everything by taking you to the departure terminal with a shuttle.
If you drive to the airport with your own car you can entrust us with your vehicle and use our
airport parking service
. We will take you to the departures terminal with a free shuttle.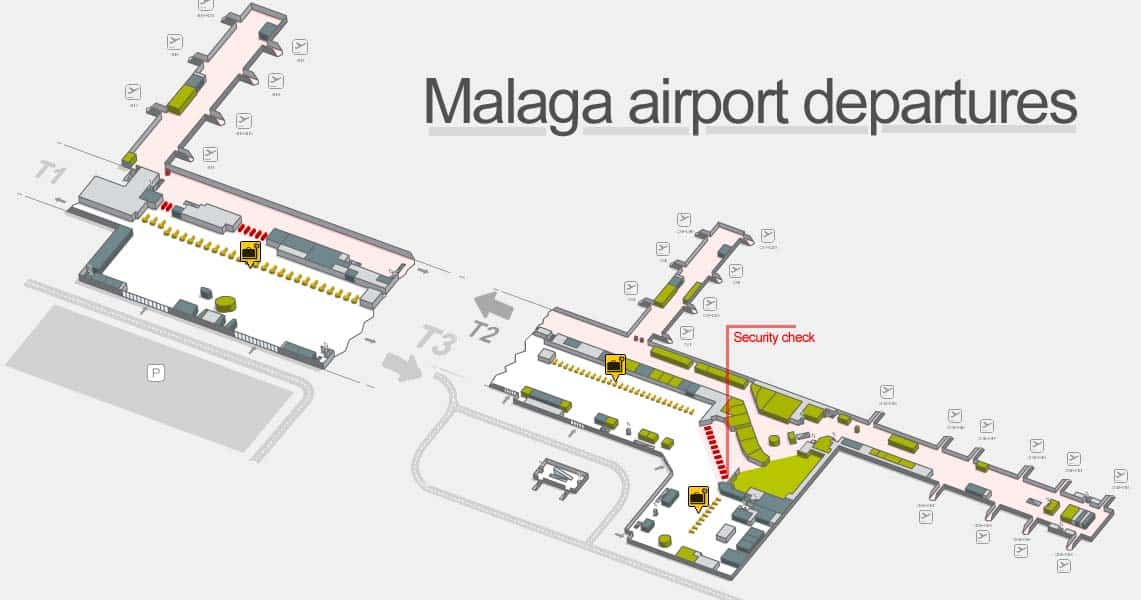 * If you need to know the route in detail by road you can visit our road maps of Malaga, you will find precise information to reach your destination in Malaga.
New road access to departures
Below a picture of the road access to Malaga airport from the north. "Salidas" means departures.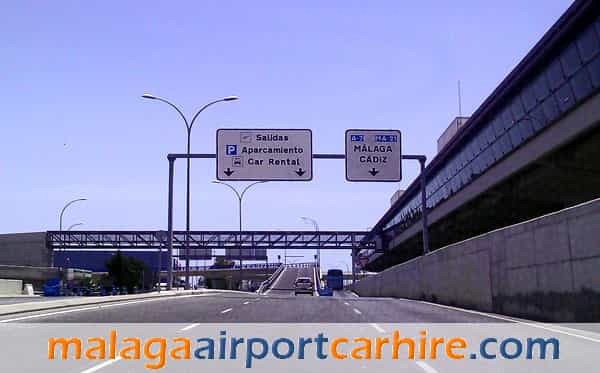 Check in your luggage
If you are travelling only with hand luggage you can skip this step, otherwise you will have to go to your counter and check in the luggage. It is a simple process and depending on the flight there may be more or less queue.
Once you have checked in your luggage, you can proceed to the airport security checkpoint at Terminal T3.
Automatic check-in machines
If you don't need to check in luggage and you haven't been able to do it online, this option is quite convenient. At the airport there are several machines from Iberia and Norwegian to check in and print your boarding pass.
They are located in Terminal T3 near check-in counters.
Check-in online
If you are carrying hand luggage you can check in online so you do not need to queue up at the check-in counter and you can go straight through the airport security checkpoint to your gate.
Malaga airport security checkpoint
Depending on the day it may take a while, so the best idea is to go through this necessary control as soon as possible and relax on the other side, where you will also find entertainment until it is time to head for the boarding gate.
The security screening consists of metal detectors and X-rays for luggage. To pass the security check you will need your boarding pass.
Regardless of whether your gate is at terminal T2, you must pass the security check at terminal T3.
Passport Control
If your flight destination is outside the European Union you will need to go through passport control.
Airport entertainment
Once you've passed the security checks, you just have to wait. At Malaga airport you can find entertainment while boarding. There are souvenir shops, tourist guides, music, press, books, etc. If you feel like an aperitif or a drink, you have many choices of bars, cafés and restaurants, both in the public area and in the passenger area.
You will find more information about Malaga airport shops and services on our website.
Remember that you must be well in advance at the gate. Check live information about departing flights from Malaga airport by looking at the information signs, calling 952 048 838 or via internet at the following address: www.aena.es.
Contacting your airline
In case you need to contact your airline we have a list of available airlines departing from Malaga airport.
Live departures