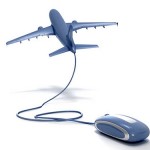 Malaga becomes the third most important airport in Spain when it comes to low cost airlines, after Palma de Mallorca and Barcelona. Although November hasn't been a good month, with a fall of almost 8% of low cost passenger movement at Malaga airport, this terminal maintains a positive balance of over seven points in travellers on cheap flights during the eleven months of the year. The figures were provided yesterday by the Industry, Tourism and Trade Ministry in a monthly report produced by the Institute of Tourism Studies.
These companies have brought a total of 3.8 million passengers to Malaga so far this year, in other words, an 11.2% of the network's total. Malaga-Costa del Sol airport's evolution in the low cost airline business is slightly less than the national average, that accumulates an increase of 12.8% until November this year, a period in which it didn't achieve a positive balance either as the seasonality generalises in the main tourist destinations. In fact, Palma de Mallorca reduced the traffic of passengers on cheap flights in almost 16 points last month.
In order of regions, Andalusia is the forth in Spain in this business of cheap flights, with 4.7 million entrances of passengers, that mean 14% of the network's total and an increase of almost 9% so far in 2011. It's followed very closely by Valencia and is surpassed by the Balearic Islands, Catalonia and the Canary Islands. In fact these five autonomous regions together received 89.9% of the international arrivals of these companies.
Traditional companies
This report manifests that the traditional airlines, with a lot less activity in Malaga airport, have suffered less activity decrease in November, although the balance was also negative with a loss of 5.5% of passengers. Malaga is the fifth Spanish airport regarding travellers that fly with the usual companies. These airlines have transported a million tourists into Malaga airport, which represents 3.9% of the business in the network's total.
Ryanair, Easyjet and Vueling were the three low cost airlines that most international passengers transported to Spain.