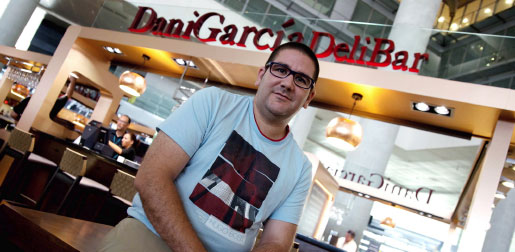 Airport food has come a long way in recent years. Malaga airport now boasts a range of restaurants and cafes, including one from a Michelin starred Chef!
Eating a decent meal at an airport used to be a tall order. The questionable canteen-style facilities of old had a notorious reputation (think greasy, fast food, dried-up pre-packed sandwiches or unrecognisable vegetable dishes) and could really put a damper on the final few hours of your holiday.
But since the multi-million Euro re-development of Malaga airport, getting a good meal before your flight is a lot easier. In fact, you can even take it with you…
A new Malaga airport deli-bar from Michelin starred Chef Dani Garcia, will offer travellers a last little taste of Spain before take off, and is even offering diners an exciting new 'take on board' option. Using specially designed packaging that keeps food warm, you can now take a tasty tapas dish with you to enjoy on your journey.
While the Dani Garcia Deli Bar offers traditional Spanish tapas with a modern twist, there are still a number of other food outlets open. From coffee shop cakes and classic Andalucían cuisine, to the obligatory fast food chains and bars, there's bound to be a Malaga airport food outlet that will have your taste buds tingling.
For more information about the bars, cafes and restaurants of Malaga airport, read our guide here.