How to get to Algeciras from Malaga Airport
If you need to go from Malaga airport to Algeciras you will find the different options and how to get there by road, choose the one that best suits your needs.
Algeciras, a city in Cadiz, is linked with Malaga and Seville by the A-7 motorway. This municipality has the most important seaport in Spain and also offers various places of tourist and historical interest.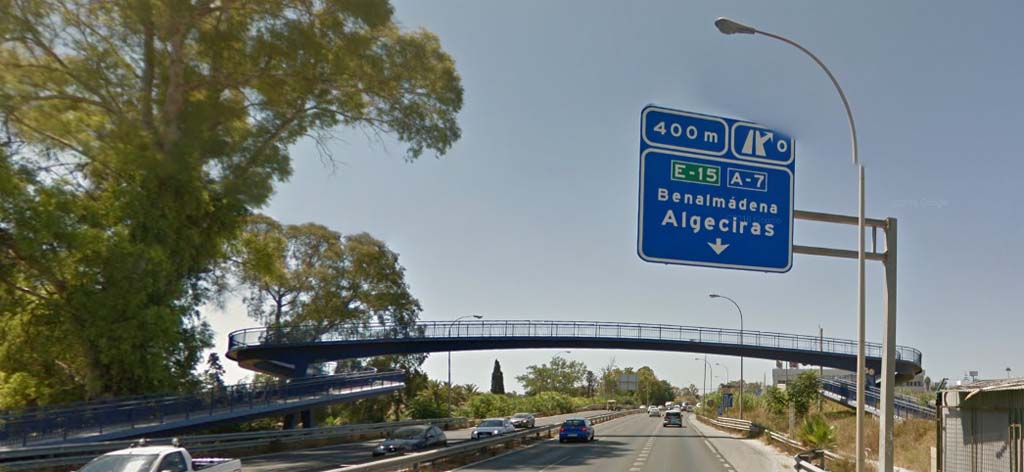 To get to Algeciras by road from the airport or from anywhere on the Costa del Sol, take the A-7 motorway towards Algeciras.

On certain sections of the motorway you can choose whether to take the AP-7 toll road or continue on the A-7. In case you want to avoid traffic and save time, it is advisable to use the toll road that marks the map below with the route you should take.

Finally, you will find the signposts that indicate the way to take if you want to go to the centre of Algeciras or the port that connects with Ceuta and Tangier.
How to get to Algeciras by airport bus
There is a bus line that connects Malaga airport with Algeciras daily, you can buy your ticket from the indicated website or at the ticket office.
The bus station of Algeciras is located at Calle San Bernardo, 1.
Winter timetable from the airport is:
Departure at 11:45 and arrival at 13:45 - Price 19.80 Euros
Departure at 19:45 and arrival at 21:40 - Price 19.80 Euros
In summer the timetable is usually extended, it is recommended to consult the official website.
From Malaga Bus Station to Algeciras
If you need a wider timetable to connect with your flight you can take the bus from Malaga bus station (map):
Bus timetable with stops at Malaga Bus Station, Torremolinos, Fuengirola, Marbella, San Pedro, Estepona, San Roque, La Línea, Algeciras:
11:30, 14:00, 16:15, 19:30 (Normal bus - 17 Euros)
Bus schedule with bus stop in Malaga, Marbella and Algeciras Bus Station:
13:00, 17:40 (Direct - 17.46 Euros)
Bus station stops in Malaga, Marbella, Estepona and Algeciras:
13:30, 14:00, 15:30, 20:00, 23:00 (Semi-direct - 17.46 Euros)
Semi-direct buses with Wifi and extra comfort:
19:25 (Plus - 20.55 Euros)
* You can see a bus schedule from Malaga to Algeciras: http://www.avanzabus.com
* We recommend checking with the company providing the service to find out the timetable during holidays and weekends.
Read more information about buses from Malaga airport.
How to get to Algeciras by train
If you want to go by train to Algeciras, you must take the commuter train to María Zambrano train station in Malaga. From the station you can take a train to Algeciras with an estimated duration of 4 hours and 44 minutes according to the official RENFE website.
The first and only train bound for Algeciras leaves the train station at 16:48 , after changing train you will arrive to Algeciras at 21:32.
The ticket price is 20.50 Euros.
This is not a direct route, you will need to change trains at Bobadilla station.
The first train you must take is the Seville-Santa Justa train at 16:48, you must disembark at the fourth stop' Bobadilla' at 17:46. Its connection is with the train of Antequera-Algeciras is at 18:59, this train has stops in 9 other municipalities.
* We recommend checking the timetable from the official website in case of changes: http://www.renfe.com
If you need more information about the trains from Malaga airport or the station you can visit our guide.
Other options to get to Algeciras
If you want to avoid the inconvenience of travelling by public transport, you can rent a car at a good price. The journey by car lasts only 1 hour and 22 minutes approximately, compared to about 5 hours by train or 2 hours by bus. During the booking process you can also request some extras such as a GPS navigator or a child seat.
Another convenient and simple means of transport is a taxi from Malaga airport to Algeciras. The price is pre-established and the driver will pick you up at any time your flight arrives. If you book your return trip, you will also receive a 10% discount and the driver will pick you up at the time indicated in the same place.
How much is a taxi fare from the airport to Algeciras?
The price is already established in advance so there will be no surprises when you book your taxi to Algeciras:
4 seats up to 3 suitcases: 135 Euros
7 seats minivan up to 9 bags: 180 Euros
16 seats minibus up to 16 suitcases: 220.50 Euros
19 seats minibus up to 19 suitcases: 256.50 Euros
It is paid on arrival and has a 10% discount for a return trip.
*These prices are only valid for online reservations from the website we recommend.
Map of driving route to Algeciras
See the Route Map and Driving directions.
« Get back to Malaga route planner main page.
Popular destinations in Malaga