How to get to Torrox from Malaga Airport
Have you decided to take a holiday and want to know how to get from Malaga airport to Torrox?
Torrox is located on the eastern Costa del Sol, 55 kilometres from Malaga airport, it has beaches and a great infrastructure oriented to tourism and is that it is the favourite destination of many tourists during the summer months, especially Germans. Torrox also grows tropical fruits such as avocado, mango and chirimoya among others, thanks to its subtropical climate.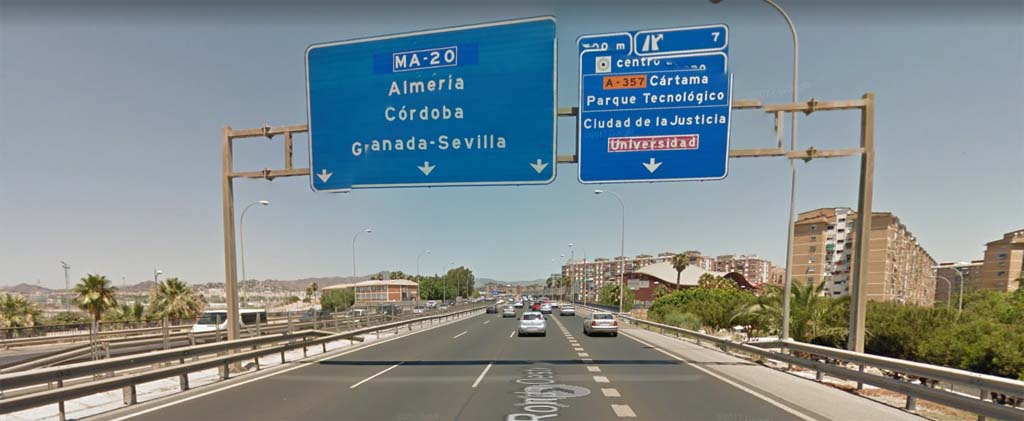 To get from Malaga airport to Torrox by road you have to head to Malaga and continue on the A-7 road towards Almeria.

You must pass through the municipalities of Rincón de la Victoria and Vélez-Málaga, always heading towards Almería on the A-7 road. Finally you will find the exit to Torrox, Torrox Costa and Cómpeta.

When you reach the first roundabout after the motorway exit you must take the first exit if you go to Torrox Costa or the third exit if you go to Torrox village, although both are connected.
How to get from Malaga airport to Torrox by bus
There is no bus line from Malaga airport to Torrox, the only option would be to go by train or bus to Malaga and connect there with a bus to Torrox. (Map showing the location of the bus station)
When you arrive at Malaga bus station you must buy an ALSA bus ticket to Torrox. This bus makes stops in Torrox and Torrox Costa.
Departures begin at 10:00 am from Malaga station and at 10:05 am from Malaga Port. The last departure is made at 7:30 pm from the station and 7:05 pm from the Port of Malaga.
The approximate frequency is one bus every half hour and the ticket price is 4.18€.
The approximate duration of the trip by bus is 1 hour and 15 minutes to reach Torrox Costa and 1.30 hours to reach the town.
If you need more information about buses from the airport you can visit our guide.
Train from Malaga airport to Torrox
There is no line connecting a train from Malaga airport to Torrox. You can however go by train to Malaga to take a bus from there to Torrox.
For more information about commuter trains from the airport you can visit our guide.
Other options to get to Torrox
If you want to live a beautiful experience in Malaga you may want to drive yourself to Torrox, renting a car in Malaga is an option to consider, even more when you are visiting towns that are so far from the city centre. It is a way not to miss the opportunity to know more about our province.
If you prefer the comfort of being taken and brought the best option is a taxi from Malaga airport. For a pre-established price they will bring you the day and time of your choice.
What is the price of a taxi from Malaga airport to Torrox?
The price is already established, you have different options if you book it from the website:
4 seats: 60.30 Euros
7 seats: 85.50 Euros
16 seats minibus: 108 Euros
19 seats minibus: 129.60 Euros
It is paid on arrival and has a 10% discount for a return trip.
Map of driving route to Torrox
See the Route Map and Driving directions.
« Get back to Malaga route planner main page.
Popular destinations in Malaga