How to get to Sierra Nevada from Malaga Airport
If you are thinking about how to get from Malaga to Sierra Nevada by car or you need information about other transport alternatives, the following guide may be useful.
There are two options, one is to drive along the Costa del Sol towards Motril and the other option is to head towards Casabermeja from Malaga and follow the A-92 road until you reach Granada.
The A-45 changes at Villanueva de Gauche to the A-92 and the alternative toll route via the AP-46 also passes through here. Although this second option has a toll so we will opt for the toll-free route to get there as cheaply as possible.
It is a simple route, well signposted and we will only have to take a few detours to reach our destination. The approximate time is about 2 hours, so in a very short time you can start enjoying the Sierra Nevada if you go by car. Do you need a car? Check out our car hire in Malaga and start planning your road route to Sierra Nevada.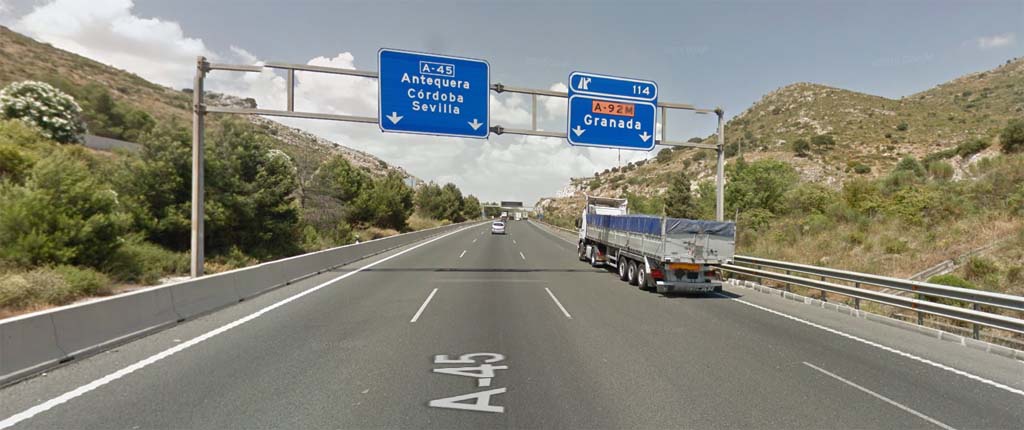 About Sierra Nevada
The south of Andalusia has an incredible wealth and great diversity of nature. Malaga Airport is therefore the ideal starting point not only for seaside destinations along the Costa del Sol or city trips to some of the most remarkable cities in Spain. Similarly, the highest mountain range in the Spanish peninsula, Sierra Nevada, is just a two hour's drive from Malaga.
A visit to Sierra Nevada is interesting both in summer and winter. The area is one of the national parks of Spain and thus during the warmer months ideal for excursions and hiking. Depending on condition, could be done easy or long routes that lead to over 3,000 meters, with a unique flora and fauna of the southern peaks.
Visitors of all ages and less sportive can enjoy the possibility of gliding with the cable car to lofty heights and also there is a bus that runs on the highest road in Europe to some fantastic view points. Increasingly popular are hikes to view the sunrise on the peak Mulhacen, called "Sun Mountain" by the Moors; a unique spectacle. Similarly, during the summer months are offered astronomical nights.
Even in summer the temperature at the altitude is 10 to 15 degrees lower, so make sure you bring always enough warm clothes and good shoes.
Mainly known is Sierra Nevada, however, because of its excellent winter sports area, where you can enjoy until well into April the white sport in the most southern ski resort in Europe. Here, skiers can enjoy a deep blue sky and a fantastic view over the Mediterranean and the nearby Rif Mountains of Morocco.
The Mediterranean is not even 50 kilometers away in direct line and in the province of Granada is it actually possible on the same day to go skiing and have a swim in the Mediterranean.
Who travels with time should definitely not miss the Moorish city of Granada, with outstanding monuments and sites declared World heritage by UNESCO.
Malaga to Sierra Nevada on the A-7
To get to Sierra Nevada on the A-7, follow the same route by road as if you were going from Malaga to Nerja. When we leave the airport we must cross the bridge to take the Ma-21 road towards Malaga. Follow this road until you reach the intersection and take the A-20 towards Granada.
We will have the option to take the toll road or continue on the A-7 A-7 towards Motril, Almeria and Rincon de la Victoria. We will have to leave the A-7 near Motril and continue along the A-44 road, GR-30.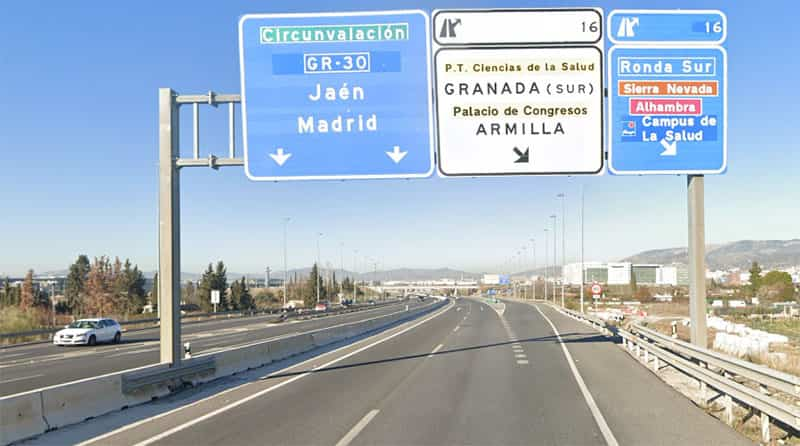 Continue along the G-30 until you reach the A-395 exit, which will take you to Sierra Nevada if you do not leave this road.
Alternatives to get to Sierra Nevada by road
The map below is automatically generated with the shortest route, which is the toll one. If you want to follow the toll-free route to Granada, we recommend you consult this map.
How to get from Malaga to Sierra Nevada by bus
To get to Sierra Nevada by bus you will have to take the bus from Malaga airport to Granada, a journey time of approximately 2.15 hours. The bus stops in Malaga and can also stop in Loja.
There are departures from 8.15am, the last bus leaves Malaga at 10.45pm and arrives in Granada at 1am. There are days when only one bus can leave at 1.45 pm, so it is advisable to check bus timetables to Granada on the website before making plans.
Remember that in Granada you will need to take another bus to Sierra Nevada; the last one usually leaves at 17.15. The bus timetable between Granada and Sierra Nevada is as follows: https://siu.ctagr.es/es/movil/horarios_lineas_tabla.php?linea=1053
How to get from Malaga to Sierra Nevada by train
There is a train connection between Malaga and Granada, with a transfer in Antequera. The minimum total journey time is 2.5 hours, depending on the connection between trains. Arriving in Granada you will need to take a bus to get to Sierra Nevada.
The approximate price is between €8.98 and €50, depending on whether you choose the AVE train or not, and the day of travel.
The first train usually leaves at 8.58 am and the last train of the day at 4.13 pm. Depending on the day, there may only be one train available at 4.13 pm, so it is advisable to check the train timetables to Granada on the official website.
Other options to get to Sierra Nevada
If you like to enjoy the scenery while you drive, the recommended option is to rent a car at Malaga airport. We offer you a car at a good price so that you can enjoy your holiday without complications.
Can't or don't like to drive? Maybe taking a transfer from Malaga to Sierra Nevada sounds tempting, a vehicle or a bus with driver will take you to your destination in the most comfortable way.
Map of driving route to Sierra Nevada
See the Route Map and Driving directions.
« Get back to Malaga route planner main page.
Popular destinations in Malaga