How to get to Malaga from Malaga Airport
Find how to get from Malaga airport to Malaga city centre by car. There are 2 options, the fastest one is by Avenida de Andalucía, although there may be traffic problems at certain times. The map can show you one or the other route so we'll show you an image so you can tell the difference.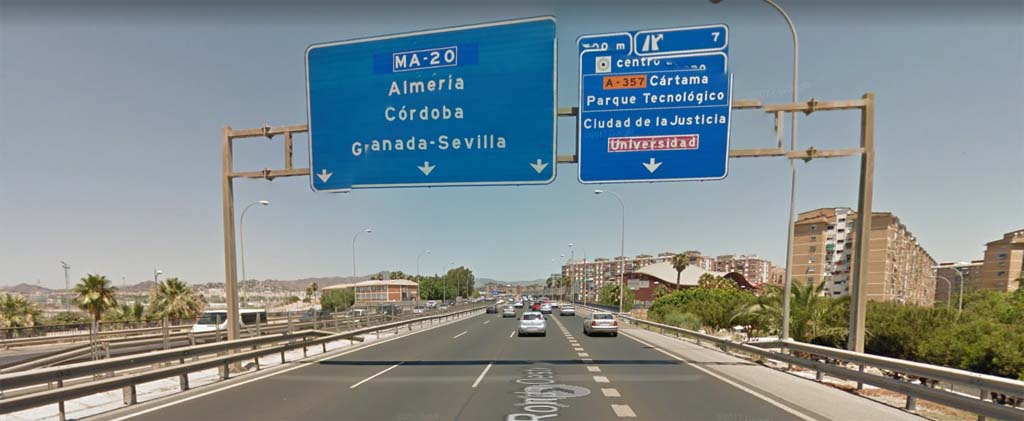 One of the routes consists in heading towards Granada, while the recommended route is following the signs indicating "Centro ciudad". Take the right lane and follow the signs to Avenida de Andalucía and the city centre.
While driving the Avenue of Andalusia remember not to exceed the speed limit, there is a radar just before crossing the bridge that could give you a bad surprise.

In front of the mall Corte Inglés is always an area under construction, so you must take a detour and follow the signs to get to the city centre.
How to get to Malaga from Malaga airport by bus
There is a bus line that connects Malaga airport with the city centre, in case you want to use this means of transport the price is currently 3€ and it takes about 15 minutes to reach the last stop.
You can see in real time the next start and a map with the stops at: www.emtmalaga.es/es/lineas-y-horarios/linea-express-aeropuerto-/
The first bus leaves at 7:00 and the last one at 0:00. The frequency is approximately every 20 to 30 minutes.
Read more information about Malaga airport buses.
Train from Malaga airport to Malaga city centre
You must head to the train station at Malaga airport. It is right in front of arrivals, but you will have to round the airport parking lot to your left, in a couple of minutes you will arrive at the station.
The first train to Malaga leaves at 6:44 and the last one at 00:54. There is a train every 20 minutes approximately.
The train stops in Guadalhorce, Victoria Kent, Malaga Train Station and finally in Málaga Centro Alameda.
The ticket price is €1.80, you can use the ticket vending machines at the entrance of the station to buy your ticket. Remember to buy a 10 trips ticket if you are going to use it more than a few times, it will be much cheaper.
You can read more about Malaga airport trains here.
Other options for getting to Malaga
If you travel with a lot of luggage you may prefer the comfort of a transfer from Malaga airport. From our website we recommend to book it in advance to avoid possible surprises, the driver will wait for you according to the arrival of your flight.
We recommend to hire a car in Malaga, it is an economic option that will also allow you to know more about our province. We offer GPS and child seats that you can request during the booking process. If for any reason you cancel your flight there is no penalty at all, these are all advantages.
What is the price of a taxi from Malaga airport to Malaga?
You will know what you will have to pay before booking online, there will be no surprises with the price for the taxi transfer:
4 seats: 30.60 Euro
7 seats minivan: 44.10 Euro
16 seats minibus: 71.10 Euro
19 seats minibus: 80.10
It is paid on arrival and has a 10% discount for a return trip.
Map of driving route to Malaga
See the Route Map and Driving directions.
« Get back to Malaga route planner main page.
Popular destinations in Malaga