How to get to Estepona from Malaga Airport
If you want to go from Malaga airport to Estepona we recommend the best route by road. Read on to learn more about the different options to get from Malaga to Estepona.
Estepona is part of the Costa del Sol, it is a municipality especially attractive for tourists during the summer but maintains a stable population throughout the year.Let's learn more about Estepona before reading how to get there.
About Estepona
Estepona is one of the westernmost resorts of the Costa del Sol, situated 80 km from Malaga airport. Located only 40 km from the strait of Gibraltar, next to the Sierra Bermeja mountain range and with more than 20 kilometres of beaches, Estepona has yet maintained more than any other resort on the western Costa del Sol a certain charm of an andalusian fishing village. The construction has not been as massive as in other places and visitors can thus find many charming corners in the historic centre and plenty of nature in the municipality.
Estepona has as well given special attention to certain more quiet exclusivity. Thus can be found in Estepona a surprising number of five star hotels and first class golf courses for wealthy tourists who prefer a high standard holiday away from the bustling and glitzy neighbor Marbella.
To Estepona by car

If you plan to drive from Malaga airport to Estepona, you must head towards Algeciras. You have the option of using the AP-7 toll road or the A-7, which is a freeway. The difference is the traffic, the toll is certainly much faster than the A-7 and its traffic is usually scarce. If you are not in a hurry and want to enjoy beautiful coastal views, you may be interested in following the A-7 that crosses the towns of Fuengirola, La Cala de Mijas, Cabopino, Marbella and San Pedro de Alcántara. The difference in driving time can be up to 20 minutes between taking the toll road to the A-7, always depending on traffic.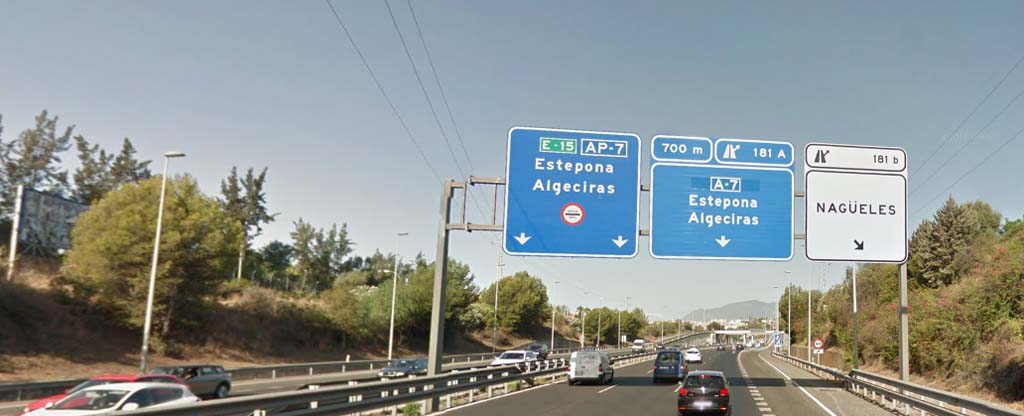 You will have to pass through San Pedro de Alcántara, a few kilometres away you will find the exit to Estepona.
*Toll roads are always signposted so you have time to choose the option of your choice.
How to get from the airport to Estepona by bus
To get to Estepona you have buses all year round from Malaga airport.
During the winter there are 2 buses a day: 11:45 and 19:45 - Sundays at 11:30 and 18:50.
During the summer there are 7 buses a day: 7:00,10:00,11:20,13:15,17:20,18:50,21:00
The price is 13.20€ for one way.
In case the timetable doesn't fit your flight plan, there is the possibility to take the bus from the centre of Malaga. (How to get to Málaga)
Departures from the centre of Málaga to Estepona:
Semi-direct: 1 hour and 20 minutes - 10.28 Euros one way
13:30,14:00 and 20:00 hours
Normal: 2 hours - 9.90 Euros one way
5:00, 6:45, 7:30, 8:15, 11:30, 13:15, 14:00, 16:15, 19:30, 22:15
Express: 1 hour and 20 minutes - 14.20 Euros one way
7:15, 10:30, 14:30, 18:00,
Plus: 1 hour and 35 minutes - 14.20 Euros one way
19:25 hours
*Prices and schedules are estimated and obtained from the official website. Some bus schedules may change during weekends and holidays.
For more precise information about schedules and prices, please visit: http://www.avanzabus.com
Read more information about buses from Malaga airport.
Is there a train from Malaga to Estepona?
Unfortunately, there is still no train available between Malaga airport and Estepona, although there are plans to make this route in the future.
Nowadays you can take a train to Malaga where you can take a bus to Estepona, in case your flight schedule doesn't fit with the buses leaving from the airport to Estepona.
If you wish you can find more information about trains from Malaga airport on our website.
Other options to get to Estepona
If you want freedom of movement you can rent a car at Malaga airport with us. We offer you new vehicles at a very low price, take a look at our offers to have a vehicle with which you can not only visit Estepona but the entire province.
If you don't need a car or can't drive you can book a Malaga airport transfer, pick you up at the right time and bring you back to the airport at an affordable price. If you are travelling in a group or with a lot of luggage, you can choose a larger vehicle.
What is the price of a taxi from Malaga airport to Estepona?
You will know what you will have to pay before booking online, there will be no surprises with the price for the taxi transfer to Estepona:
4 seats: 85.50 Euro
7 seats: 117.90 Euro
16 seats minibus: 158.40 Euro
19 seats minibus: 178.20 Euro
It is paid on arrival and has a 10% discount for a return trip.
Map of driving route to Estepona
See the Route Map and Driving directions.
« Get back to Malaga route planner main page.
Popular destinations in Malaga