How to get to Nerja from Malaga Airport
To get from Malaga airport to Nerja you have to drive towards Malaga, for this you will have to cross the bridge that is leaving the airport using the MA-20 road. The journey time is about 53 minutes depending on traffic.
But before getting to Nerja, let's learn more about this place.
About Nerja
Nerja is probably one of the most popular resorts on the eastern Costa del Sol, situated 68 kilometres from Malaga airport. The eastern Costa del Sol is much less developed for tourism and there are fewer hotel complexes and massive building.
This part of the Costa del Sol is different from its popular western part, with a much more mountainous landscape, as the foothills of the neighboring province of Granada and the Sierra Nevada are already very close. So the beaches are not as long and wide as in western Malaga, but you can find many small coves that have a peculiar charm. The sand is not as fine and often there are pebble beaches.
The advantage of this type of beaches is that they are less frequented by bathers, they are generally quiet (less tourism infrastructure), and especially the water quality is excellent. Although the Western Costa del Sol is constantly awarded with blue flags for the quality of their beaches, this is not necessarily true for the water quality (particularly in summer); in comparison, the water in Nerja and the Eastern Costa del Sol is crystal clear and ideal for practicing diving, where you can discover interesting underwater rock formations.
There are also interesting rock formations onshore, in the form of the famous caves of Nerja, with amazing caverns where are held concerts in the summertime. The caves are situated quite close to the city centre. The small town with about 20,000 inhabitants has preserved the charm of an Andalusian fishing village more than any other resort on the Costa del Sol, with white houses, narrow streets, inviting Plazas...
Nerja is a quiet place (except in high season) and an ideal holiday destination for travelers who prefer quiet and like to stroll along the bays. Very well known in Nerja is the famous lookout point over the Mediterranean "Balcon de Europa ". The hotel infrastructure in Nerja is very good, but not so massive and more integrated into the landscape.
During the summer months there is of course also an extensive entertainment program available with sports, leisure and nightlife, while for the remaining months it is however very quiet.
Road route by car
Follow the road towards Granada, another option is to intersect the centre of Malaga and drive along the panoramic route that borders the eastern coast of the province. In this case you will enjoy beautiful views but the journey will take almost two hours and a half.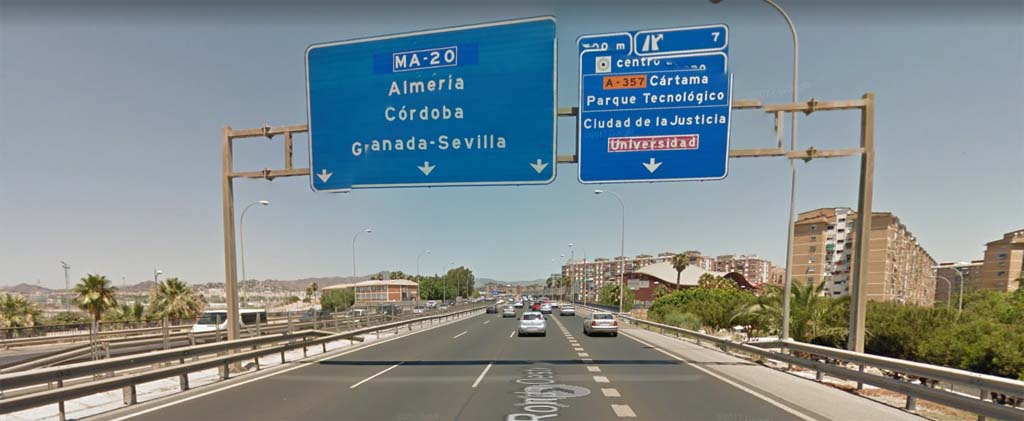 Continue along the MA-20 road to Granada until you take the A-7 motorway and follow direction Motril, Almeria and Rincon de la Victoria.

Follow the Motorway A-7 until you reach the exit of Nerja and Frigiliana. At the end of this exit you will find a roundabout with a sign to welcome you to Nerja, municipality on the left.

How to get from Malaga airport to Nerja by bus
There is no direct line from Malaga airport to Nerja, so we recommend takinge a train or bus to Malaga and connect there with a bus to Nerja. (Map showing the location of the bus station)
The trip to Nerja starts at the bus station in Malaga and there are two possibilities, a semi-direct route to Nerja with a stop at Torre del Mar or one that makes stops in the Port of Malaga (from where you can also take it), El Palo, Torre del Mar, Caleta de Velez and Torrox among other stops to finally reach Nerja.
Departures start at 7:00 am from Malaga station and at 7:05 am from the Port of Malaga. The last departure is at 11:00 pm from the station and at 11:05 pm from the Port of Malaga.
The approximate frequency is one bus every hour and the fare is 4.51Euro
The journey takes 1 hour and 40 minutes.
If you need more information about buses from the airport you can visit our guide.
Train from Malaga airport to Nerja
Unfortunately, there is currently no train from Malaga to Nerja, the only option would be to take a train to Maria Zambrano Station and from there walk 5 minutes to the bus station.
For more information about commuter trains from Malaga airport you can visit our guide.
Options for getting to Nerja
The eastern Costa del Sol can only be reached by car or public bus; to present there are no train connections from Malaga. Who wants to go by public transport to Nerja, takes the suburban train from Malaga airport to Malaga city (Maria Zambrano Train Station); just opposite is situated the bus station, where leaves about every hour a bus to Nerja, which again takes about an hour.
Who understandably after traveling by plane has no desire to spend again several hours with suburban train, transfer and public bus, is definitely better off with Malaga car hire.
By car you reach Nerja comfortably in less than an hour on the Mediterranean highway E-15. Another possibility is the old national road N-340, which runs along the coast, with some great views. Who has more time in any case does see more on this route and the mileage is about the same, time is half an hour more.
If, on the other hand, you prefer the comfort of travelling without worrying about anything else than arriving at your destination and taking you back to the airport from your place of residence in Nerja, transfers from Malaga airport are the best choice. For a fixed price you will be taken to the exact point you choose from Nerja and picked up to return the exact time of your departure.
Map of driving route to Nerja
See the Route Map and Driving directions.
« Get back to Malaga route planner main page.
Popular destinations in Malaga